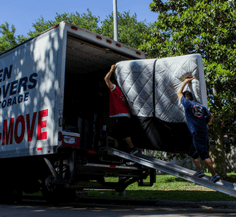 While the idea of having to move your bulky mattress may seem impossible we're here to make it easy. As long as you make the right preparations, moving the large items in your home is nothing to stress about. Keep reading for 3 easy steps to move your mattress!
RENT A BOX TRUCK
We do not recommend that you try to move your mattress with an average sized vehicle or even a truck. Attempting to strap cargo onto a car with no experience is extremely dangerous for you and other drivers. You can rent a truck in most states for around $20 a day and this route is much safer.
PURCHASE A MATTRESS COVER
Covering your mattress is going to keep it clean and damage free during your move. Many other people have used your rental truck before you, you're going to want to ensure that it isn't exposed to any dirt/contaminants while also preventing any snags or tears. You can pick these up from your local home improvement store or you can order one online from sellers like Amazon.
LOAD IT INTO YOUR TRUCK WITH THE HELP OF A FRIEND
You're going to need the help of at least one other person to load your mattress into your new place. If you're moving your entire home, we recommend putting your mattress in the truck before your bed so that once you arrive at your new place you can unload and set up the bed first and then bring your mattress in and set it on top!
IN CONCLUSION
Moving a mattress is a pretty simple process but our expert recommendations are to protect it with a mattress bag and to forgo the idea of moving it without a truck. If you want more pro tips on how to properly load a moving truck check out our guide!