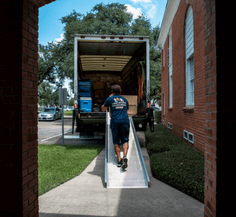 Planning to pack your own car, rental van, or moving truck for your next move?
You're in luck!
We've been doing this every day for over 30 years, and we're sharing our expert advice on how to load your vehicle without damaging your belongings and while capitalizing on all of the space you have available.
#1 PUT THE HEAVIEST ITEMS ON THE BOTTOM
Your first layer of items should be your heavy items like bulky pieces of furniture or boxes full of heavy items like books. The heaviest items must be layered at the bottom of the vehicle to prevent them from damaging lighter items.
#2 ADD YOUR STACKABLE ITEMS ON THE SECOND LAYER
The second layer should consist of boxes that are of medium weight. They should also be able to stack evenly on top of your first layer.
#3 PUT ODDLY SHAPED/LIGHTWEIGHT ITEMS ON YOUR THIRD LAYER
The top layer should consist of items that are lightweight and items that are oddly shaped and difficult to stack such as pieces of art, irons, and even decorative light fixtures. You'll be able to fit them in using all of the remaining space that you have left without being bent, scratched, or broken.

#4 IF YOU CAN, FILL ALL OPEN SPACE
One of the tricks that we have learned is to fill all available space. Open space leads to shifting which can lead to damages. If you don't have enough items to fill your vehicle you can also use straps from your local hardware store to secure your items.
IN CONCLUSION
Packing your vehicle can feel like you're playing a game of Tetris, but following our simple stacking pyramid will ensure that your items arrive in the same condition that they were in before your move.
An extra step to make the process even easier is to pack an essentials box with all of your must-haves for the first night in your home. Be sure to label it and pack it towards the end so that it's not buried in your other boxes.