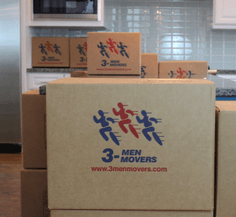 One of the things our customers worry about the most when moving, is how to keep their valuables safe from damage. A "valuable" can be subjective… from items that have monetary value to sentimental items that could never be replaced. No matter where they fall on the spectrum, here are our top tips to keep your valuables safe when moving.
INSIDER TOP TIPS ON HOW TO KEEP YOUR VALUABLES SAFE DURING YOUR NEXT MOVE:
Know where your valuables are before your move
During the process of moving it's easy to lose track of things, especially if you haven't seen the item in a while. Some people get to their new home and are looking for an item that they haven't seen in years but assumed was in a box somewhere. Before the packing phase of your move ensure you know where your valuables are so that you can make sure they are packed and transported to your new home.
Pack your items ahead of time
If your valuable item is personal, we recommend packing and boxing it ahead of time instead of leaving it for your professional packers or movers. Seal it with packing tape, and add a label on the outside of the box instructing your movers where they should place the box in your new home. It's a little work on your end, but it ensures that personal items aren't lost.
Take your valuables to your new home early
The back of a moving truck can be a hazardous place. Even when a truck is loaded properly, you have to remember that the back of the truck is full of very heavy and bulky items. If you're worried about a very delicate, valuable item (think glass or crystal) getting damaged consider transporting it to your new home ahead of time. Another option is to set it aside and let your movers know that you will be taking it to the new location later. Even with proper wrapping and protection, some delicate items are best moved outside of the truck.
Keep your valuables near while moving
There are some things that you should keep on yourself during a move (like expensive watches, cash, wedding rings and bands, other jewelry, priceless antiques, and any items that you deem priceless). Your belongings will be out of their usual place, and you may have different people going in and out of the home (movers, internet installation crew, cleaning crews, etc.) so keep these valuable items with you at all times or with a family member. It will give you peace of mind and ensure that they remain safe and in your hands.
Wrapping Up
Ensuring your valuables are safe during your move doesn't need to cause you stress it just requires a little pre-planning. Remember to keep your valuables boxed, sealed, or on your person. Happy moving!