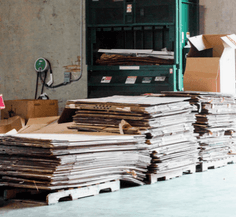 For those who have curbside recycling, disposing of boxes after a move is easy, for others it's a little more labor intensive but well worth it. Recycling one ton of cardboard can save up to 1,944 square feet of space in a landfill. To make the process as pain-free and environmentally friendly as possible we're giving you three easy alternatives to throwing your boxes away.
Drive Them to a Local Recycling Facility
The most popular method is to drop your boxes off at a local recycling facility after you finish the process of unpacking. In order to maximize space in your vehicle break your boxes down as you unpack and stack them in your vehicle.
If you have your used boxes ready for recycling at the end of your move another option is to ask your movers to drop them off at your local recycling facility or at their facility if they recycle boxes at their headquarters. We're proud to offer box recycling as one of our green initiatives at 3 Men Movers! Just be sure to ask your movers about the process beforehand and if you are having them drive to a facility know that you may incur a fee for the extra stop.
Donate Them to a Local Charity
Charities routinely make supply deliveries and you may be able to break your boxes down and take them to a local organization. Just be sure that the boxes you drop off are in good condition!
Give Them to a Friend or Neighbor
Our final option to give your boxes a new life is to give them to a friend, neighbor, or coworker that has an upcoming move. If none of your contacts are moving you could make a listing on NextDoor, which connects you to residents of your community and see if anyone in your area needs them.
In Conclusion
Not only is recycling your boxes better for the environment, you'll also have a lot more space in your home without boxes cluttering your rooms so it's a win-win!
If you do choose to donate your boxes ensure that you also pass along the message to reuse or recycle your boxes after they're done utilizing them!