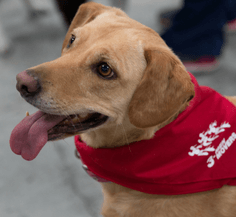 If move day is around the corner, you've probably made arrangements for movers to come, and started compiling a list of things that you need to get done to complete the process. So, make sure your pet's needs make the list too!
Sometimes our pets are so much a part of our family that we forget they require special treatment on move day.
That's where we can help!
The last thing that you want on move day is an anxious or scared pet.
Like children, pets thrive on stability. So, having the whole house packed and moved is scary! They want to know that they are going with you.
Here are a few tips and tricks that can help your pets remain comfortable and calm throughout the process of moving.
SCENARIO #1 HAVE SOMEONE ELSE CARE FOR YOUR PET THE DAY OF THE MOVE
In most situations, the best thing that you can do for your pet is to remove them from the home on move day. Have a friend or family watch them if you can, or take your pet to daycare until you wrap up the move. If you are planning to go the daycare route remember that most daycare centers require that your pet's shots are to date.
SCENARIO #2 IF YOUR PET STAYS WITH YOU ON MOVE DAY BE VERY ATTENTIVE
If your furry friend stays with you on move day you need to be extremely attentive. Make sure your moving crew knows where they are so that they don't prop open the door to the area that the pet is in and allow them to escape. Even if you don't have a pet who runs you should never let the pet roam around the movers. If they are lifting heavy items and unable to see their feet they could accidentally step on the pet or lose their footing and hurt themselves. Crate your pets during the move and make sure your movers know that you have a pet in the home.
SCENARIO #3 IF YOU ARE DOING A LONG-DISTANCE MOVE MAKE SURE YOU'RE PREPPED
If your pet is going to move with you across cities or states, make sure that you do plenty of prep work.
For extremely anxious pets, you may be able to get a sedative from the vet to help ease the transition.
If you are going via plane make sure you check all of your airline's requirements when it comes to pet travel. If you are traveling via car ensure that your pet has things to make them comfortable in the car, like a blanket, toy, or your shirt (they usually feel at home with your scent).
IN CONCLUSION
If you are a pet parent you probably think of your animal as a child.
Like kids, pets need to be eased into the transition of moving. Ideally, you would have them somewhere else while the move is taking place. But, if they do stay at the home use our tips to ensure that your pets don't escape or find themselves in a dangerous situation.
Finally, make sure that you have all of your pet's essentials in a box that is easy to locate at your new place so that they can feel right at home!