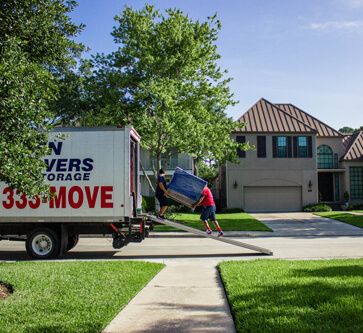 Professional movers can make your move easy by packing up your belongings and driving them to your new home on moving day. However, as you finish packing, keep in mind that there are some types of items your movers cannot put in the moving truck. That's because safety is among our top priorities, and some items simply cannot be safely transported in a truck. So before moving day gets here, take a look at what our movers can't move for you.
Dangerous items
Some things just aren't safe to pack into a moving truck, as they could end up hurting our movers and anyone on the road. Items that aren't safe for us to move include:
Oil
Gas/Fuel and Lighter Fluid
Pesticides
Cans of paint
Guns and weapons
Live ammunition
Fireworks
Aerosol sprays
Bleach, Ammonia, nail polish remover, or other strong cleaning fluids
Not only is it dangerous to move these items, but in many cases, it's against the law. So just don't try packing these. Instead, you can look into the safety of transporting them yourself, or perhaps just safely dispose of them and then buy replacements when you get to your new home.
Pets
This should come as no surprise, but experienced movers won't put animals in the back of the moving truck. It's just not safe for them back there. Not only is it not comfortable like a car is, but you also need to keep them in plain sight to ensure nothing falls on them on the way to your new home.
For this reason, you should transport your pets on your own. If you don't plan on driving to your new home, you'll have to make arrangements for someone else to drive them. And of course, if you're moving with pets and your new home is too far away to drive to, plan on putting them on a plane–making sure to read up on the airline's rules of transporting your pets by air first.
Valuables and irreplaceable items
Our movers will happily transport everything from your couch and bed to your TV and all your kitchen appliances. But we've found that irreplaceable items–like your great grandma's super fragile teacups and your photo albums chock full of snapshots of great memories–would be better off going with you in your car. The same goes for any medications you need, and items that would be time-consuming or expensive to replace–like passports, credit cards and jewelry.
Basically, anything that you don't want even the smallest risk of losing or breaking should not be put on a moving truck. We do have insurance to ensure you can replace any items on the off chance they're damaged during the move…but that won't help you get back mementos that money can't buy! So it's best to err on the side of caution by packing valuables and sentimental items into your vehicle.
Loose items
Finally, our movers can't transport loose items during the move, so if you want anything moved, you should put it in a box. After all, boxing it up will keep it safe and less likely to get lost during the move. If you need help boxing up anything you're bringing with you to your new home, let us know and we can arrange to provide you with our packing services.
If you're ready to hire professional movers to assist you on moving day, contact us today!
Related Tips