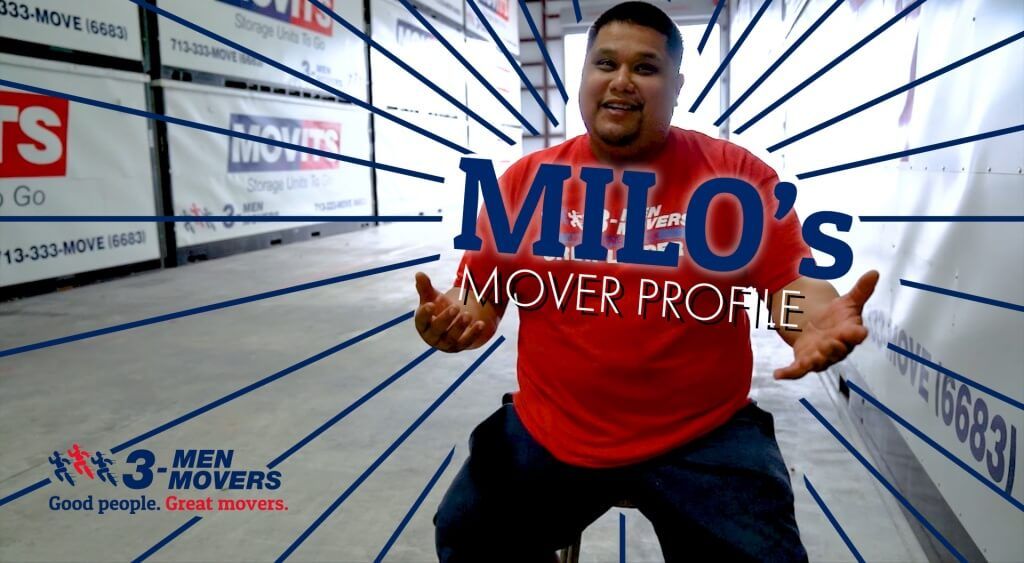 Get to know us by knowing our Crew Leaders! Milo tells us what A-list celebrities he's moved, and the reason why he moves you.
Video Transcription
Why are you the BEST mover?
Smile man just give them the Milo treatment shake their hands man and I just be me. You know, don't change who I am I'm the same Milo, same guy same characters since day one when I first started
How did you start at 3 Men Movers?
I would say like 1999 2000 my cousin he started working with some of the driver here that used to work here before and I we would just help him out during the summer time as a kid so My uncles and other cousins as well so that's how started
Have you moved anyone famous?
I've moved Sam Decker and I've moves some of the Rockets player. They weren't that famous because they were rookies but now they're high in the nba Patrick Beverly I've moved him once. Roger Clemens He wasn't there but it was my cousin work here before and they asked for a lift Gate. So, I had to go out there and do I have got my new truck and they needed a lift gate so I went out there and lifted up some of those heavy wood he had for his basketball court.
Are you related to anyone that works here?
That's pretty much it to my brother works here. My cousins. I got three cousins and an uncle that works here so a total of five family members that work here
How have things changed over the years?
I remember when I first started here Those little trailers Those little gooseneck little 24 footers little Frito lay Mr. Fisher Jacky's dad bought some with Mr. Fisher Jacky's dad bought some with those little curved weird shaped ones and I guess the other drivers started using them I remember 3 Men Movers getting build on Houston avenue the signs and all that stuff the big sign freeway sign. We used to live across that's one reason, we got the job here too, so we saw it getting build and asked for a job well my cousin asked for a job and brought us along
Do you have any family at home?
Found my wife four years ago We found each other. she had two kids well three kids actually and we have my for my first kid. My first blood two years ago in 2015 well no 3 years in 2015 well no 3 years ago. She will be three in August then we have a new one on the way so, in July, so another baby
What do you like to do outside of work?
What do I like to do what don't I like to do It used to be where I used to like going and doing outdoor activities like you know, like I going fishing with some of my buddies and I used to play football I used to play semi-pro football from some teams here in Houston from some teams here in Houston now it's just playing with my kids man. Just being there with them and there with them and just hang out with them, you know just our moments like that just our moments like that I have to take advantage of.
Any final words?
As far as moving goes customers get ready mentally because some customers are stressful mentally because some customers are stressful there, you know your stress is going to go right away because you're going to see how fast so working