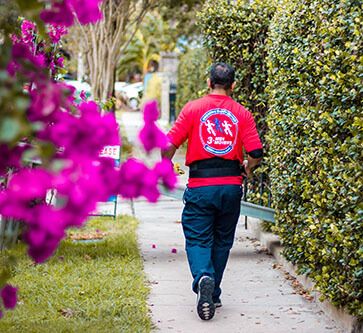 The reality of moving means allowing strangers to come into your home and handle all of your belongings. That sounds a little odd when you think about it, and it definitely has the potential to be uncomfortable if you end up not liking the moving crew. That's why we make sure our "Movifesto" includes this ideal: "We don't keep movers that you don't like." Considering that our Movifesto serves as our promise to our customers, as this video explains, you can expect us to stick to this. Let us show you how we do that.
WE HAVE HIGH STANDARDS FOR OUR MOVERS
Look, we know our movers are basically strangers to you when they show up, and we're doing something about it. Before your move, we will send you a photo of your Crew Leader, along with his reviews. Why? Because we want you to recognize the face knocking on your door and we want you to know a little bit about our crew's work history through the eyes of previous customers. While most of our movers have excellent reviews, we do show the reviews that aren't perfect to hold our crews accountable.
If you have a bad experience due to rude or super slow movers, you're unlikely to hire us again, let alone movers in general. Bottom line: we have an obligation to not only represent ourselves professionally but the industry as well.
WE PAY CLOSE ATTENTION TO REVIEWS
If you're ever having a day where you feel like telling everyone your opinion — good or bad — please start by writing a review for us after your move! We want to hear from you, so give us all the details. Feel free to rant or rave about how your movers did. Fill us in on how careful they were with your boxes, how fast they worked, how respectful they were of your home and whether the jokes they told were actually funny. We want to hear it all!
That's because we read every single review carefully and make decisions based on them. Your review will help us determine which movers to reward and which ones to cut from the team. After all, we believe who moves you matters, since they're in your home for hours, moving some of your most precious possessions. It makes sense to ensure that only trustworthy, good people get to enter your home on moving day.
Overall, we want to make sure anyone interacting with you is on their game and is the best we can offer – we even survey customers on how well our Sales team did. Our customers' voice counts and we want to make sure it gets heard, so go ahead and read all our reviews, and then leave your own once we move you!