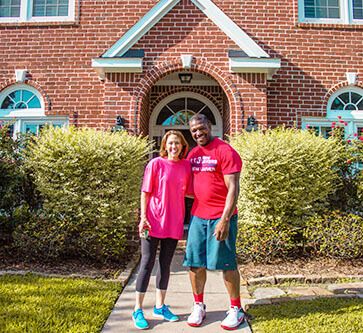 We mentioned in Part Four how disconcerting it can be to have strangers traipsing through your house, picking up everything you own and walking away with it all. Sure, technically they're movers you hired to put everything in a moving truck to take to your new house … but it's still a little uncomfortable at first. However, when you hire 3 Men Movers, it's not uncomfortable for long, because we're pretty sure you're going to feel like you and your movers are best buds by the end of the day. In fact, it's in our promise to our customers — which we call our "Movifesto" — since one of our values is "We arrive as strangers and leave as friends." Here's what that's all about.
OUR MOVERS ARE KIND AND RESPECTFUL
Soon after our movers show up at your door for moving day, they'll win you over with their polite, helpful attitude. After all, we make sure to hire only kind, courteous people who are willing to work hard to make your move go well. We understand you want to get the day over with fast, and our movers are happy to help!
We think the attitude of your movers can make a world of difference in how your move goes. If your movers are rude or uncaring, you're going to feel uncomfortable in your own house on moving day, and that's unacceptable to us. And if your movers don't work hard and refuse to arrive on time, your move is going to take longer than it has to — which is another issue we just won't accept!
You deserve to feel like you're in good hands soon after the movers get to your home, as they should be friendly, warm and ready to start working hard from the get-go. As you watch our movers work, you'll likely notice the care with which they handle your boxes and furniture … and yet they still hustle to get your move done on time, working together as they go. Need to ask a few questions about the move? Go ahead! You'll get a pleasant smile, a complete answer and maybe even a cute joke, putting you a little more at ease on a day when you expected to feel stressed.
OUR MOVERS RELATE TO CUSTOMERS
We make sure our movers are more than just the muscle you need on moving day. I mean, they are that, but they're also so much more! They're not simply going to show up and transport your boxes without a word, like robots. They're going to help you feel as relaxed as possible, because they understand the stress you probably feel as moving day begins. This is where going above and beyond comes in.
Our movers know you don't just want them to drop off your boxes and furniture at your new house and immediately leave. You want them to set your items carefully into place and rearrange them if you don't like where they are, and that's exactly what our movers will do. After all, they relate to customers and think about what they're going through before making any decisions. That's the only way they can be in compliance with our Movifesto, which you can learn more about with this video that explains our values.
Related Tips