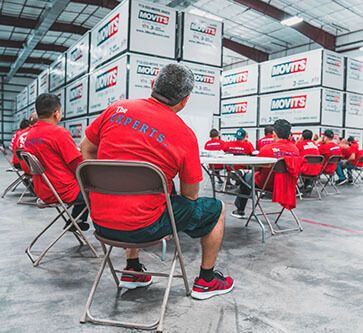 If you've moved a few times in your life, you already know that no two moves are the exact same. Well, we've moved people thousands of times, so you can rest assured we're aware of this, too! We get it. There are always numerous factors to take into account from one move to another, and even the smallest detail can make one move drastically different from another. That's why we're fully prepared to ask the right questions that will make every move go as smoothly as possible. After all, we're the industry experts. It's even in our "movifesto," which serves as our public promise to our customers. More specifically, part 6 says: We are The Experts. Check out what that means for you.
OUR MOVERS ARE INCREDIBLY EXPERIENCED
This isn't the company for movers who are looking to break into the business of moving. We're very selective about our movers, because we pride ourselves on being experts. In fact, we're the company the local news channels call when they're doing a story on rogue movers and want to know what a legitimate moving company would do. Basically, reporters use some movers as an example of "what not to do," and they use us as the example of "how to do it right."
We can thank our experienced movers for this reputation, as our crews have an average of about five years of experience. And some of them have been helping people move for over 20 years! We figure it's easier for you to sit back, relax and know you're in good hands when your movers have helped with hundreds or even thousands of moves.
WE EXPERTLY PREPARE FOR EVERY MOVE
We believe moving is a science, and we treat it as such. As we help you schedule your move, we'll ask the right questions to ensure your move is tailored to your specific needs. Our questions will steer us in the right direction when it comes to determining how big of a truck you need, how long the move will take and what materials we'll need to bring. So all you have to do is tell us a day that works for your schedule and then provide us with some answers to our questions as moving day approaches.
Once our movers arrive on the big day, you can be sure they'll bring the right moving supplies, lots of patience, plenty of muscle and several smiles to last the whole day. This is when you'll see for yourself that our movers are trained not just to move your furniture, but also to understand what you're going through — and even bring a never-ending supply of moral support!
As you watch our movers work, you'll see how they expertly wrap fragile items, from your TV to your gun safe. You'll also note how they perfectly stack the moving truck, which is truly a thing of beauty! Anyone who has seen an imperfectly stacked truck knows what a difference proper stacking makes in a move, since your belongings have a good chance of getting damaged when they're not placed in the truck properly.
Simply put, we are The Experts when it comes to moving. We have years of experience helping people move from one house to another, and our movers are all properly trained to help with every aspect of relocation — from packing to truck stacking. You can find out what else we pride ourselves on when you watch this video about our eight-part movifesto.
Related Tips