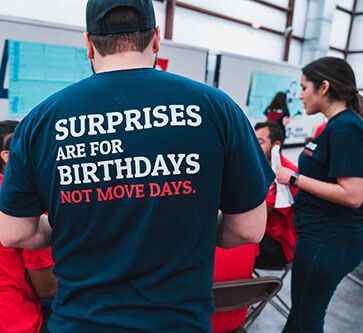 Surprise! You hired the cheapest movers you could find and now your move is going to start two hours late and will cost $200 more than you thought! No thanks, right?! At 3 Men Movers, we're not big on surprises either – unless we're celebrating a birthday. In fact, we're pretty nitpicky when it comes to nailing down all the details and making sure you're aware of them long before moving day arrives. We're so against surprises on moving day that we mention this detail in our "Movifesto"–which is our promise to our customers. In particular, Part 7 is: "We know surprises are for birthdays. Not move days."
WE'RE TRANSPARENT ABOUT EVERY MOVE
The best way to avoid unfortunate surprises on moving day is for us to tell you exactly what to expect. We realize surprises happen when communication is subpar, meaning customers think one thing is going to happen and we deliver, well, something else entirely. For this reason, we make sure to go through every detail on the phone, to the point where it might even seem tedious at times. But hey, you'll will know exactly what time we'll be showing up, what size truck we'll bring and how our charges work!
Our customers tend to agree that this is better than movers arriving an hour late and bringing along a bill for hundreds of dollars more than they expected. Sadly, many have had that happen with other moving companies, making an already stressful experience (researches say moving is one of the top 25 most stressful events a person can deal with), even more chaotic.
WE'RE EASY TO GET AHOLD OF
We're planners. We love to prepare for moving day long before it arrives, ensuring both our movers and our customers have the right time in mind, are clear on the hourly rate and know what materials will be needed for the move.
That being said, we know that plans can change on a dime. Sometimes our customers' schedules change, budgets have to be adjusted and overall moving needs are altered. This is why we're available to talk 24/7. How many movers in Texas can say that? Not many, that's for sure! So if you need to make any changes or ask any questions about moving day (even if you don't move with us), we encourage you to call us at any time.
Please check out our video explaining our eight-part Movifesto. Then contact us when you're ready to schedule your predictable and easy move.