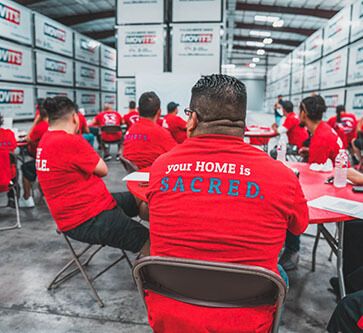 Your home is your haven, and our movers will treat it as such on moving day. We know that we are entering a space where a lot of memories have been made.
That's why our movers make sure to treat everything–and everyone–in your home respectfully. We are so committed to this pledge that we added it to our "Movifesto," as part eight: "We respect that your home is sacred." How do we live out this value on each and every move? Here are some examples.
OUR TEAM HAS A RESPECTFUL ATTITUDE DURING EACH MOVE
We know that we're entering your home as guests who are there to provide a service. That's why we are respectful the minute we set foot inside. We know you don't want three loud strangers stomping through your house, getting dirt on your floors or putting smudges on your possessions. We can't think of anyone who would appreciate that!
So we strive to take the exact opposite approach, which means we make sure that our shoes and clothing are clean and that we use our "indoor voices" when asking questions or giving you updates on the move. You deserve to feel safe and respected in your home, especially during what could be a stressful time in your life.
We also encourage you to let us know of any additional household rules up front so we can make sure to follow them during the move. And keep in mind that our respectful attitude extends beyond your belongings to your family–including your pets. So, if we need to be mindful to keep the gate closed to prevent your dog from escaping, or if we need to keep our voices down more than usual while a child naps, just let us know and we'll make sure our movers honor your wishes.
WE WORK HARD TO PROTECT YOUR HOME
Part of respecting your home is preventing harm to it. During a move, wrapping furniture with blankets and shrink wrap can be a tedious task that some companies cut corners on. But, at 3 Men Movers, we take the protection of your belongings seriously.
For example, we can put down padding on the floor before handling furniture with sharp edges, which is especially important if you have hardwood floors to protect when moving. We're also careful to avoid sliding anything across flooring that could get scratched, and we make sure to bring the right equipment for anything heavy we need to move–we bring everything from Masonite to dollies. We even know how to safely move items that require special care, such as natural stone and baby grand pianos.
The bottom line is that your home is in good hands with 3 Men Movers. Knowing the rest of our Movifesto–which is full of values that should put you at ease–will also help you prepare for your move. Find out more by watching this video all about our Movifesto.
Related Tips