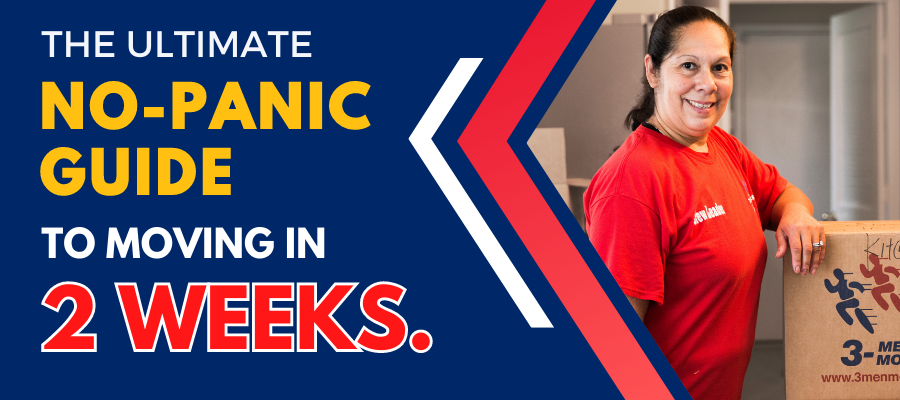 Are you moving out of a house or apartment in 2 weeks and still not ready? Sure, you've got a lot to do in a less-than-ideal amount of time—but it is doable. And, yes, you can still move. Below we cover exactly how to move from anywhere—house or apartment. You'll know exactly what to do in advance, each week, and the day of your move, plus a free checklist and tips to make the entire process much easier!
Top Things to Do 2 Weeks Before Moving ASAP
— Erin. 3 Men Movers Market Manager, Austin
You probably thought you had more time. After all, two weeks can seem like enough. But, it really isn't… Especially considering everything you have to do, like:
Find a moving company
Donate or get rid of anything you don't want to take with you
Packing everything you own (this includes getting the supplies, closing/taping and labeling boxes)
Handle other move-related errands (like changing your address, vehicle, or voter registration, setting up new utilities, etc)
And finally, the actual move day
Not to mention unpacking and setting up your new place, or shopping around for anything you need to get settled. Remember, you're also competing with hundreds of other people who need to move due to expiring leases! So, if you've done absolutely none of the above, take a deep breath, read on, and download the FREE two-week moving checklist below.
Download Your Free 2-Week Moving Checklist
Whether you're moving from a house or apartment, this free, 3-page guide will help you prepare in under two weeks. Grab the freebie below!
Running out of time? Here's How to Prepare to Move In 2 Weeks:
In the third episode of our Master Your Move series, Erin, our Austin Market Manager, even gives her best advice for moving out in a time crunch. Here are Erin's top tips on how to prepare for a moving company within two weeks—whether you live in an apartment or a house!
Erin highly recommends some key steps to prepare for moving company in just 2 weeks… no matter where you're moving to or from:


1. Book a mover as fast as possible.
This is extremely important during peak moving seasons (like summer) when tons of people are moving. Not sure what to look for? We've got just the right questions to ask—especially if you want to move quickly—and how to find a legitimate company.
2. Clearly label all boxes & items
Mark the contents and indicate anything fragile inside (especially glassware!)
3. Check on parking or truck access from the street.
Speak to your landlord or neighbors first to avoid any conflicts.
4. Schedule any necessary appointments as far in advance as possible
Think of anything that could be impacted by your move being longer or shorter than expected (e.g. reserving an elevator, hiring an electrician, locating cleaners or specialty disposal, finding contractors to disassemble/install certain items like playground or workout equipment).
You'll also want to note the times so your movers can hustle prior to any contractor or vendor visits to your new home.
5. Prepare packing supplies.
Take stock of the easily damaged things you have to move. These could be TVs, mirrors, glasses, artwork, jewelry, or more. This will help you know the types and quantities of moving supplies you need to get prior to your move.
If you're packing alone, use supplies that will make packing easier: strong boxes, packing tape, permanent markers, blankets for wrapping, bubble wrap, leg casters, box dividers (or clean towels) for glasses and dishes, and plastic wrap or tarp for transporting live, potted plants.
MASTER TIP: Use the boxes or cases that your devices came in to pack them up (e.g. TVs, jewelry, lamps, cookware).
6. Call your moving company and check your appointment.
If movers haven't already done a virtual or in-person walkthrough, take photos or video and send it to them yourself. This is critical if you're using the company's packing services.
MASTER TIP: Open all closets, cabinets, doors, and drawers so your movers can accurately gauge how much they'll be packing and/or moving. Review your quote with them and ask about any additional fees not outlined that could be tacked on if they need to pack your items.
7. Get a good night's rest 1-2 nights before moving.
Sleep deprivation adds up and can leave you less than alert. Trust us, you don't want to be grumpy, groggy, or forgetful on your move day!
8. Pack up the last things you'll use in the morning.
Toiletries, cosmetics, medication/vitamins, snacks, dog food, kid's supplies—think of everything you know you'll need to use on move day that won't go on the truck. Keep them easily accessible in a grab bag to toss in your vehicle.
The same goes for live, potted plants. Movers can't legally transport these in a moving truck, so make room in your vehicle while protecting your floors and upholstery.
MASTER TIP: Wrap plants and tarp your floor so the soil doesn't spill.
9. Have your payment ready.
When you first book and sign, all scheduled charges should be explained and documented upfront. You definitely don't want your move day to arrive and you're unable to pay. Legally, moving companies can retain your items on their trucks until you can pay as agreed in your contract. No one likes being in that situation, so make sure you have enough money to cover your move (you can always call the mover later if there's an issue!) MASTER TIP: If payment is a problem, save yourself and your moving company some awkwardness and cancel or reschedule for when you're ready.
10. Check labels & move boxes out of the way.
The best way to make your move faster? Clear a path for your movers to get to and from your apartment door/garage. It also helps to have fragile boxes in a separate section from heavier items. Finally, double-check that any descriptions on fragile or important boxes haven't been mislabeled or misplaced.
MASTER TIP: Make sure any fragile items are clearly marked on all sides of the box with an arrow facing upwards.
11. Do one last sweep with movers before leaving.
The worst feeling is leaving something behind. (It's also a nightmare if you're moving long-distance!) Avoid this by doing one final sweep of your entire apartment or home when before you and the movers head to your new place.
Good Luck with Your Last-Minute Move!
Yes, a last-minute move is stressful, but you've got this! With determination and following these helpful tips, it can still be a smooth process. By getting started ASAP and efficiently organizing your move, you're off to the races. Finding a reliable moving company and utilizing our downloadable moving checklist will help you stay on track and avoid any surprises. Remembering to pack and label your boxes strategically will make unpacking a breeze in your new place. Even if you have less time than you'd prefer, with careful planning, a positive mindset, and the support of your friends and family, you can still successfully navigate a quick move and begin your new chapter with ease!