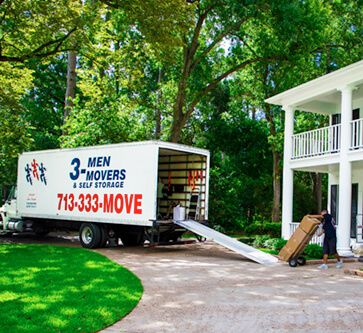 One of the most important parts of moving is figuring out which truck you're going to need before your Houston movers arrive. After all, you don't want to realize on moving day that half your belongings don't fit in the truck — forcing you to quickly decide which of your most precious possessions you can live without! You can avoid this moving day nightmare by determining whether all your belongings will fit in the normal 24-foot moving truck. Here's what to think about first.
How Big Is the Normal Moving Truck?
Well, the short answer is 24 feet, which you probably figured. But what does that mean? At 3 Men Movers, our standard trucks are 24 feet long, 8 feet wide and 8 feet tall. Basically, they're the size of the largest U-Haul trucks. That's how much space is available to stack all your boxes and furniture.
If you're still having trouble visualizing the space, think about the average living room. That's about how much room our standard trucks have. So picture every box and piece of furniture you're bringing, and think about if it would all fit into your living room stacked floor to ceiling. If the answer is no, you might need a bigger truck.
Another way to look at it is to think about the size of your house. In general, we say if your home is less than 2,000 square feet, a 24-foot truck should work. If it's bigger than that, you might need the 48-foot Super Size truck. This might help you determine how big of a truck you need before you contact a Houston moving company for help.
How Far Are You Moving?
We think you should err on the side of caution when deciding which truck to reserve for moving day. If you're not sure, go with the larger size. Otherwise, there's a very real possibility you'll be making some last-minute decisions on which belongings you can bring and which ones to toss if you want to be able to shut the door to the truck!
However, there's one instance in which our Houston movers recommend the standard truck over the larger one, and that's when you're not moving far. If you're only moving, let's say, five minutes down the road, the normal truck is perfect. The Houston movers you hire can load up your truck, drive for a few minutes, unload everything, and repeat as needed. This will take barely any extra time or effort compared to packing a 48-foot truck once, so your move should be reasonable when it comes to the cost and timeline.
But if you're moving across town, or to another city or state, and there's a chance the standard truck won't hold everything … go with the larger option. This is because hiring Houston movers to pack up a standard truck twice and drive it back and forth for more than a few minutes will cost you more time and money.
Granted, we can't guarantee everything you own will fit into a 48-foot truck. Maybe you have a giant house or just form a sentimental attachment to everything you lay eyes on. Hey, no judgment here! There's just a small chance your move will take longer, even with the larger truck. It all depends on how much stuff you have.
If you're worried about squeezing everything you own into a truck, it might be time to look through your things and decide what you really need. If you have some items you haven't used in years and you're worried they'll take up precious space on the truck, consider donating or selling them. And don't be afraid to call your local Houston moving company for help figuring out which truck you need. At 3 Men Movers, we're happy to help, so contact us today!
Related Tips