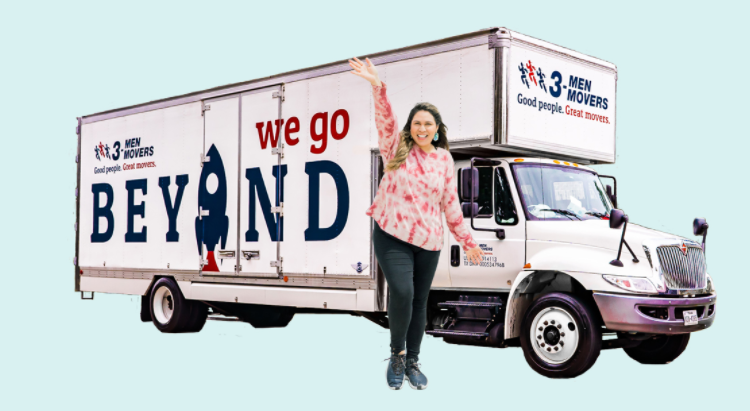 3 Men Movers is a family-owned Texas moving company you can trust. Why? Because we've been BBB-accredited since 1997, we've been in business for 30+ years, and our moving crews are held to annual physicals, background checks, and monthly truck inspections. Not to mention that we have a customer service team available 7 days a week for any moving questions you may have—pretty cool, huh?
Whether you've planned ahead or need to move last minute, 3 Men Movers is here to make your move as stress-free as possible! Moving isn't our only specialty (not to brag); we also offer packing and storage solutions. With offices in Houston, San Antonio, Austin, and Dallas, our local moving company has become recognized as the mover of choice for over 30,000 Texans each year.
Got moving on your mind? We totally get it! Erika had a lot of questions too, like:
How long will the move take? Every house and move is different so we try not to give concrete estimates. A few factors that impact the length of the move are the size of the home, the number of boxes, whether all your belongings are packed and ready to go, and the distance between the starting and ending location. Pro Tip: The best way to save time (and money) is to ensure that your items are packed and boxed before our arrival.
What size truck is right for me? When we were planning Erika's move she was right in between needing our 24-foot truck and our 48-foot Supersize truck. If you aren't sure which truck size you need just give our Move Experts a call. They'll ask a few questions about the size of your house the amount of furniture you have, and help you decide which truck would be best for your move.
Do you do more than just moving? Yes! We are a full-service moving company and also offer packing, unpacking, self-storage, and portable storage units called MOVITS™.
If I have 3 Men Movers pack for me can I use my own boxes? Of course! The packing crew will use any boxes or packing materials that you already have, and they will also have their own supplies if you need them.
Do you have any other tips to help me prepare? You bet! Whether you're packing yourself or request one of our amazing packing crews, this checklist will help keep you on track for move day.