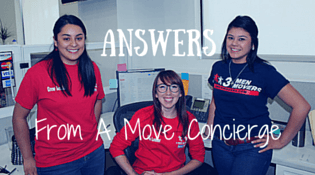 Multiple Stops During Your Move? No Problem!
In this edition of "Answers from a Move Concierge," our Dallas MC Erika explains how 3 Men Movers handles moves with additional locations. Need to stop by a storage facility or an extra apartment before we move you in? Just let us know!
Are you currently in an apartment, but keep half of your belongings in storage? Are you a newlywed looking to move into a new home with your partner? Need to have items dropped off at a donation center first? You may be in need of a multiple stop move. Just as the name implies, a multiple stop move is a move that requires additional stops at locations other than your new home or apartment. Don't worry, the 3 Men Movers team can help! It is not uncommon for moves to incorporate more than two locations, and we're more than happy to help you transport your items to wherever they need to go. If you need to move items to or from storage or stop at an extra location on the way, simply let your Sales agent and movers know!
Notifying us ahead of time can help us create your stress-free move. Once we have the address of your additional locations, we can configure them into your move time, trip charge, and actual quote. On the day of your move, our movers can use this pre-recorded information to travel quickly between your locations for an even smoother move.
Remember: the drive time is charged at the hourly rate. Therefore, if you plan to schedule a move with multiple stops, you will have to take into consideration that the time in between each location will be charged. The hourly charges will continue to accrue while your belongings are in our possession, including during traffic or other delays.
Additionally, keep in mind that some buildings have moving restrictions. Make sure your moving plan will work accordingly with any restrictions your building may have. When booking a move with multiple locations, it's best to schedule the first move of the day for a guaranteed start time.
Since the second moves of the day do not have a guaranteed start time, we can not ensure that the movers can arrive at a set time. For example, if you are moving into a highrise and the building requires the reservation of a freight elevator with a specified time slot, we will not be able to guarantee that the movers can arrive and complete the job during that time.
It's also important to note that if you are taking items to a storage facility and you have a second move of the day, we cannot guarantee arrival before the storage facility closes. If you plan to move during our second move of the day, it is a good idea to ensure you will have access to your storage facility after hours.