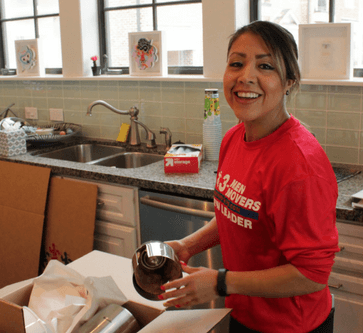 No matter how excited you are to move, you likely still dread packing. It's much more fun to spend your time looking at pictures of your new home, visualizing which wall is best for your big-screen TV. But as you daydream about the details, don't forget to set aside enough time to pack (we recommend starting about two weeks ahead of move day). This leads us to a frequently asked question – what do you pack first? The answer – nonessentials. If you're unsure of what counts as a "nonessential," think about anything your family hasn't touched–or really even thought about!–in the last two weeks. To break it down further, here are the five spots around the house that are usually full of nonessentials you can tackle first.
#1 THE KITCHEN
Even the most devoted chefs surely have some items in the kitchen they haven't used for weeks. And, of course, everyone else has even more! Some common nonessentials you can pack first are:
fine china
extra pots & pans
baking sheets
extra cups, plates, bowls, and silverware
the throw-away drawer that we all have in our kitchen full of koozies, can openers, lemon squeezers, and garlic presses
Of course, if your family is ok using paper plates and cups for the last week leading to the move go ahead and pack all cups, plates, and bowls. Remember, when packing dishware to use plenty of packing paper (or newspaper) to prevent cracking, or you can always call our packing professionals to help.
#2 THE WALLS
Wall decorations make your house look nice, but they're definitely not essential. Yes, this includes that adorable professional photo of your dog! Take down all your art and framed photos, and put them in picture frame boxes as soon as you start planning your move. Staring at bare walls may not be fun, but neither is procrastinating packing until moving day.
#3 BOOKSHELVES
No matter how careful you are to avoid collecting clutter in your home, you've probably picked up some little knick-knacks to display on the shelves around your home. We all do! Starting loading your children's art, figurines, or books into boxes, just make sure that you wrap all fragile items thoroughly. Also, when it comes to packing books or heavy items, make sure you aren't loading small boxes beyond 20-25 pounds as they will most likely bottom out when moved.
#4 YOUR CLOSETS
Your bedroom closet is likely bursting at the seams with shoes, purses, hats, old Halloween costumes and clothes you won't be wearing again this year–or ever again. It's time to decide what you want to sell, keep or toss! Your hall closets are likely packed too. It's time to start boxing up sheets, towels, and blankets. We do recommend leaving your cleaning supplies and vaccuum as you'll most likely need those day of moving (especially if you're renting).
#5 THE GARAGE
If there is one thing we've learned as Houston movers, it's that the garage is the part of the house everyone seems to forget as moving day approaches. Don't make this same mistake! Otherwise, you'll be stuck wading through holiday decorations, old bike tires and tools minutes before the moving truck arrives. No matter how handy you are, you're probably not going to use all those tools in the next few weeks. So set aside a few tools you might use as you prepare to move–maybe a hammer, screwdriver and utility knife–and then box up the rest.
Note that now is also a great time to decide what you want to donate or toss! After all, packing is easier when you have less to box up, so consider decluttering before you bring out the boxes. Likewise, don't want to lift a finger? No problem! We've got professional packers ready to help you prepare for moving day. Contact 3 Men Movers today to get a quote and set up the moving services you need.