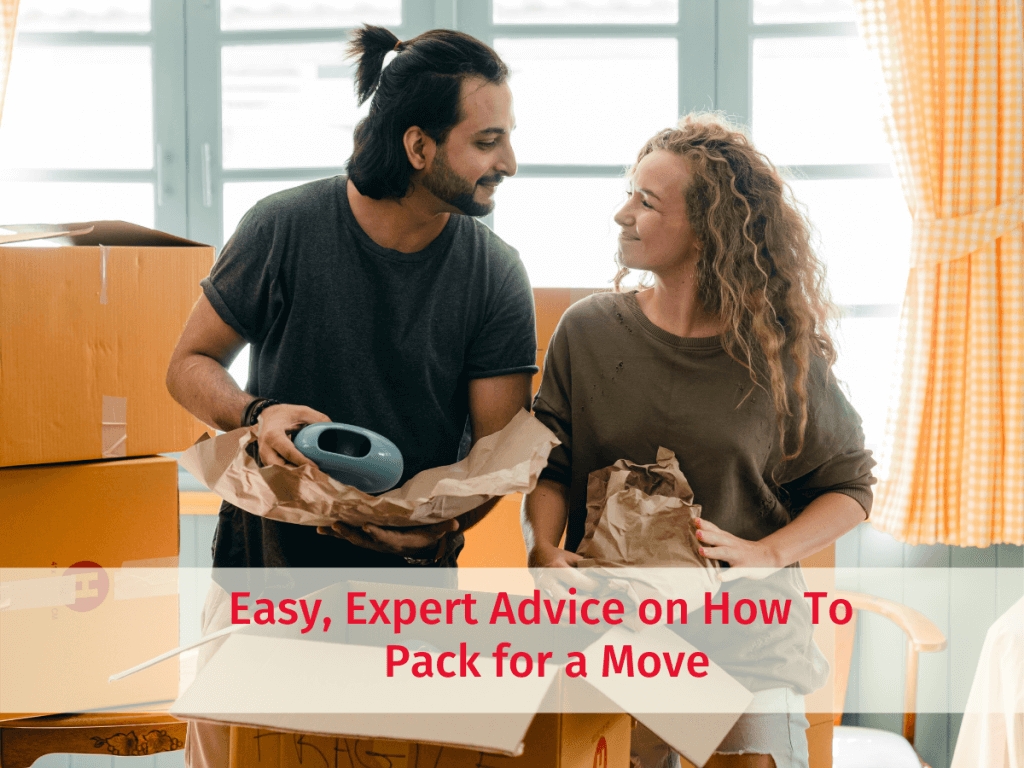 Want easy advice on how to pack for your next move?
We get it: just thinking about how to pack for a move is enough to become overwhelmed. Packing up your things efficiently can make an enormous difference in the quality of your move—and your stress levels, too.
Check out our best professional advice on how to make packing for a move much easier.
Tip #1: Pack With the End in Mind
Our in-house moving expert, Norma, has seen it all when it comes to her long career in resolving claims from moving companies. Instead of just hurriedly throwing everything in a box, she recommends deliberately thinking about your move and your destination as you pack. This helps avoid frustrations with broken items, misunderstandings, or generally feeling worn out on your move day.
Before you start, ask yourself these questions to efficiently guide your packing process:
Are my items packed to reduce the chance of possible damage during transit?
Is the top of this box sturdy or does it need chipboard so the items inside won't get crushed?
Will I need extra supplies (like bubble wrap, packing paper, or blankets) to pack this box without empty spaces?
Do I really need to keep this item? Can it be donated, recycled, or discarded instead?
Where will I put these items in my new space?
Can this item be folded up? Do I have the right tools to take it apart, or will I need my movers' help?
this packed box be placed so it's easily accessible at my destination?
Do I have a supply bag ready for snacks, minor first aid, water, etc. for moving day?
Will I need this item on the day of my move date? Can it be boxed now or should it go in my essentials bag?
Can movers look and know instantly what's inside the box and where it goes?
Is each box filled with similar items of the rooms they're intended for (e.g. cosmetics in a box for the bathroom)? Or are different items in the box?
Which room is this packed box going in?
Did I label boxes as FRAGILE or color-code the box with the room it goes in?
Are all my expensive and personal items packed in a box that only I will transport?
Tip #2: Organize Before & While You Pack
We get it… You prefer to pack for your move by yourself because you're simply more comfortable that way. There are still some best practices you may want to keep in mind so your items (and your movers) don't get mixed up. That will only be more of a headache when you have to unpack at your new place!
Here's how to stay organized while packing so that moving and unpacking are easier:
Create (or download) a packing checklist. This will help you keep track of what to pack & how to pack, how many boxes you have, and any supplies that you need.
Declutter before you decide what to pack. Now is the perfect time to sift through those unworn clothes or that kitchen junk drawer. Pack only what you want to keep; for the things you don't want: donate them or have a garage sale!
Pack your items room-by-room. Start with your i-used room first, and stick with it.
Keep track of smaller parts and pieces. As you disassemble certain items, place the small pieces into a sturdy zipper bag or small box and label it (e.g. put your cables and Roku in a box labeled: For office TV ).
Make a grab bag of essential items for a long moving day. Even if you don't anticipate a long day, it helps to be prepared. Having items like snacks, water, toilet paper, and a toiletry bag is crucial when you still haven't unpacked everything a day after moving, or if your move into a new place experiences any hiccups.
Tip #3: Deep-clean Your Pet Supplies
Pet supplies—like kennels, doghouses, pet beds, litter boxes, etc— should be thoroughly cleaned before your move.
Sure, cleaning pet items sounds like common courtesy (no one wants to move a scratch post splotched with hairballs), but it's more than that.
Imagine that your movers arrive, ready to go. But wait...
One sneeze after another, then a fit of uncontrollable coughing suddenly overtakes one of your 3-4 person crew, until the poor soul is scrambling for his allergy medication.
Now, not only are you now concerned for your mover, but you're wondering how his reaction will impact your schedule now that you're short a hand. You may think it sounds melodramatic, but movers are people too…
Besides, medical studies show that 10-20% of people have some kind of allergy to dogs or cats1. Even if you think that your hypoallergenic furbaby isn't to blame, just know that
A) that's not supported by science, and
B) the problem is the protein in their saliva—not their fur or dead skin cells.
Ironically for dog-lovers, allergies to man's best friend tend to be more severe, more often. All the more reason to give your pet supplies a good clean before your movers arrive!
Note: At 3 Men Movers, we personally do our best to not match moving crew members with pet allergies to homes with pets. However, there's no guarantee who will show up if you go with another company. Even if you choose another moving company, let them know if you have any animals in the house and need any pet supplies moved.
Tip #4: Prep the Kids' Furniture Before Your Move
Furniture and equipment for kids are usually simple to move if they're also foldable. Check the instruction manual and see if it can be folded for easier transportation and loading onto a truck.
Don't have the original guide? Look at the manufacturer's website. They'll typically have a downloadable copy or, even better: tutorial videos!
Even if a piece can't be folded, most child equipment is easily dismantled with a few basic house tools. You definitely don't want to wait until the day before moving to find out you need something specific to dismantle, prepare, and transport your child's things. So if you can prepare and pack your kid's items before the day of your move, it will be much easier for movers to quickly haul everything into their truck.
Note about packing kids' equipment:
You're probably wondering if movers can just handle this for you. Well, it depends. A preteen's bedroom furniture isn't a problem for most movers to break down and pack up.
However, other pieces, like infant cribs or playground sets, are high-risk to safely disassemble and reassemble for future use. Because such items can vary so widely in their manufacturing and parts—and everyone wants kids to be safe—many reputable companies won't even risk it.
Moving companies that do agree will often have you sign a waiver releasing them of responsibility in case something goes wrong. For this reason, we recommend that you do one of the following to dismantle and pack child equipment:
Do it yourself with guidance from the manual; or
Have a representative of the equipment manufacturer handle it
You and your family's safety is the highest priority of any movers worth their salt. Naturally, you want your children's furniture to be as secure and stable as possible.
Unless everyone in the moving crew is highly experienced and specifically trained to assemble a wide range of kid's equipment, choose one of the two options above to safely move your children's furniture.
Tip #5: To Move Faster, Pack Certain Items Yourself
Of course, the more you have to move, the longer movers will take. (The same goes for when you're moving without professionals.)
Whether or not you're paying for moving assistance, you want your move to be fairly quick, and definitely painless. If you have restrictions on when to move into an apartment or condominium, timing is even more crucial.
Specialty or fragile items will take more time to pack up. So it's a good idea to start with those before your move day if you want to pace yourself.
We recommend that you pack these items yourself. Here's how to do it efficiently:
Pack valuables—like jewelry, money, passports—by yourself. Trustworthy movers have policies to not move such items that could easily be damaged or lost. You can easily handle these by wrapping individual pieces in plastic, then putting them into a sturdy, lined box or a sealed, waterproof bag.
Put cosmetics and toiletries into a plastic zip bag or case. If powder or liquid spills out, it won't make a horrible mess as long as the bag is sealed.
Disassemble lamps & items with multiple pieces. More complicated items with smaller, removable parts take longer to pack. Get a head start and keep the small parts together in a labeled zip bag.
Pack light bulbs inside something hard- Wrap them—socks work great—and place into a sturdy plastic box (like a thick food storage container). Even if they somehow do get crushed, the thin glass won't cut through and make a mess.
Keep power cords and other adapters together. You'll definitely need them at the new place, so pack them in the same box or baggie labeled for each room.
Tip #6: Hire Professional Packers for Extra Help
If you are in a serious time crunch, consider reaching out to a local moving company that also offers packing services. Moving companies, like ours, for example, may even offer partial packing services. So if you've made some headway, but your move date is getting closer, hiring professionals to do your remaining packing can still keep your move on schedule.
Here are some advantages to hiring movers to pack for you:
Your packing service can be personalized. Hence, the partial packing services. Yes, you can ask movers to pack as little or as much as you desire, or only certain rooms!
Professional packers are experienced with a variety of items. So unless they're rookies, they'll intuitively know how to pack and move faster than the average person.
Packers bring their own supplies. While you'll probably have an upcharge for using a company's supplies, your things will be protected in moving boxes and wrap of higher quality than a flimsy grocery store box or trash bag. It's also a bonus if you don't have the original box for a big TV or appliance!
Read More: What to Expect From Professional Packers
25 Tried-and-True Packing Tips for Preparing To Move
No matter what kind of move you're having, some things never change. Here are some general packing tips to simplify your move regardless of your situation:
Schedule your move at least 30 days in advance. A month-long window will give you more time to plan, pack, and clean so you're less overwhelmed on your move day.
Get your packing supplies in advance. If you're moving during peak season (a.k.a, summertime) it may be harder to find enough packing tape and moving boxes. You also want to ensure you have the right amount of blankets or bubble wrap for more fragile items.
Do one room at a time. Focus on your least-used items in your least-used rooms first.
Pack a little each day. This only works if you actually schedule your move well in advance. Otherwise, you'll have to scramble to pack or hire help.
Do laundry before move day. You'll certainly want clean clothes and towels after hours of moving into your new place. Besides, clean towels will come in handy for packing…
Use clean towels to pack fragile items. Wrap and stuff empty spaces using towels. Avoid using newspaper, which is too thin to keep delicates from breaking. Plus, ink can and will stain!
Pack your cleaning supplies and snacks last. You'll probably want to eat or spruce up your new space a bit while you unpack. That's why we highly recommend having dish and hand soap, paper towels, snacks, and a box cutter or scissors in your own vehicle.
Mark the top and all sides of fragile boxes. It helps to quickly and easily spot delicate packages so they're not compromised when loading up the truck.
Color-code & number the boxes for intended rooms. This helps those packing and unloading the truck know where your boxes go—which also helps them move faster (e.g. red for fragile, blue for kid's things, boxes labeled #4 are for the kitchen.)
Fold or vacuum-seal clothes in luggage. You'll save space and use fewer boxes—and a suitcase helps protect your clothing. Don't forget to remove any luggage tags that could get snagged during transport!
Use wardrobe boxes or garment bags. Don't like the idea of folding or vacuum-sealing clothes into a suitcase? Try wardrobe boxes or bags to keep your clothes on hangers. You'll still need to put them inside moving boxes, but this makes it easier to pack and unpack!
Prepare your major appliances 24 hours before moving. Taking your refrigerator and laundry units along? They'll need to be disconnected at least 24 hours before your move day. Movers should wrap large appliances in shrink-wrap and/or use moving blankets to prevent scuffing or slipping.
Take inventory of your packed boxes. It's not enough to make a mental note if anything goes wrong. Write down the number of packed boxes you have (a sticky note or app on your smartphone helps). Even better: download our inventory tracker
Do a final walkthrough of your old space. Before taping up your last few boxes, make sure that nothing gets left behind. Open all closets and drawers, check the yard, attic, and above cabinets in case any last-minute things need packing.
Set aside a space for packed boxes that are ready to go. Yes, it's for safety—but it also helps if movers don't have to do an obstacle course to load your boxes into the truck. It also saves you time and money if you're paying by the hour.
For more detailed packing tips, check out our ultimate guide packing everything for a move
Wrapping Up
Much of the advice around packing for a move hinges on a simple concept: Easy for movers = less time and money you have to spend!
Even if you decide you don't have time to use all of this advice and properly pack, that's no reason to worry. Remember, you still have the option to hire professionals.
Packing to move doesn't have to be a headache. Doing it right can save you loads of time and cash. If you haven't started because you feel overwhelmed, simply follow these easy tips on how to pack for a move!