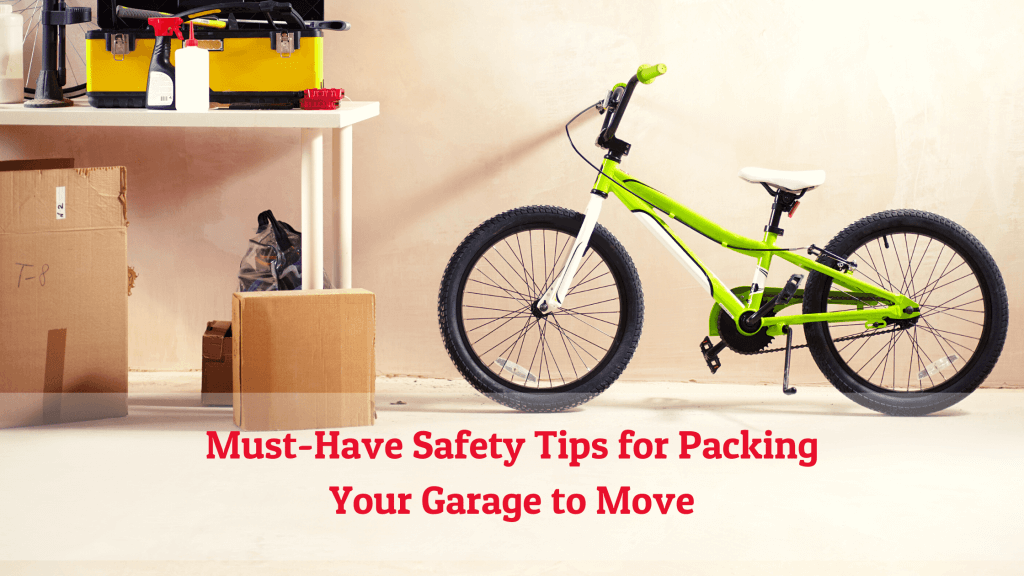 Trying to figure out how to safely pack your garage for moving can make your head spin. (We get it, and boy is it frustrating!) Whether you're moving next week, within the coming months, or in a few years' time, it's important to know what you're doing. This not only includes how to pack up your garage equipment but also how to pack it safely.
No part of the house proves this more than the garage, which is, arguably, the most dangerous and haphazard area of your home. From power tools to storage boxes to sporting & garden equipment, your garage contains all sorts of objects that are often both difficult and precarious to move. Regardless of your moving timeline, it's essential for you to know how to pack the most commonly found items in your garage, and how to stay safe while you're doing it.
How To Pack Your Garage To Move
When facing off against a project as daunting as packing a garage, it's tempting to just say "Forget about the right way!" and start throwing stuff on the truck. However, doing this is going to present you with an even more daunting problem: Not only have you packed your garage recklessly, you've likely damaged your stuff and put your safety at risk in the process. Instead, your best bet is to follow these steps.
Step One: Get Rid of Your Garage Clutter First
You'll know it when you see it… even if you skipped getting rid of it: Clutter. It may be the old and broken appliances, or even clothes and knick-knacks you meant to sell at a garage sale last summer… It could even be the stack of Amazon boxes over in the corner that you can't figure out what to do with. Whatever it is, don't even bother wasting your time transporting junk and clutter from one home to your next! Not only is it a total waste of your precious time and energy, but it's also going to take up that much more room in your moving truck.
Instead, save that space for the bulkier, more cumbersome objects you'll certainly encounter when packing. Have a yard sale, call in a dumpster, recycle… Do whatever it takes— just get rid of the clutter before you start packing your garage.
Step Two: Determine Which Items Can't Be Packed
You're likely well aware that there are some items that just can't be put into a cardboard box. Before even starting to pack up your garage, you're may be wondering about what to do with weirdly shaped items, like: How do I move a lawnmower? How do I pack up bikes? How should I store my fishing poles? And so on.
To start, it's in your very best interest to take stock of any of these items:
Flammable or otherwise hazardous materials like gas, paint, or aerosols

Explosives like gunpowder, ammunition, fireworks, or primers

Gardening supplies like plants, soil, and fertilizers

Power tools that have fuel in their tanks like lawnmowers or weed whackers

Corrosive materials like car batteries or acids
Once you've taken inventory, set the items aside. Since movers can't legally transport these types of items on their trucks, dispose of them before your move. (We'll touch on this step more in the next section on safety.)
Need to keep track of everything you have to pack in your garage? Use this handy home inventory to prioritize and organize before, during, & after your move.
Step Three: Properly Pack the Tools in Your Garage
Power tools, gardening tools, hand tools, whatever it may be, heavy-duty items like this can't exactly be neatly packed in a box for several reasons:
They might puncture the box they're stored in.

They might have odd shapes and won't fit properly.

Or, they might simply be too heavy to be packed in a box.
Instead, here's what to do when you're packing your garage tools & equipment:
Drain out the gas from any tools that run on gasoline, because A) it's a safety hazard (duh), and B) it could leak during transport.

Movers are also legally barred from transporting equipment containing fuel.

Sharp ends and edges of any tools should be wrapped in

bubble wrap or other thick, protective material that can't be easily punctured

. Have a case? Even better! This prevents your tools from scraping or impaling anything else during the truck ride.

Keep hand tools in their original boxes.

A metal toolbox is the absolute best option

. If you don't have one, check your local home improvement store.
READ MORE: The Best Way To Pack Your Garage
Step Four: Protect the Goods
From your lawnmower to the delicate keepsakes in the corner to that big glass mirror you could never find a place for, "the goods" — a.k.a. the fragile or expensive objects in your garage— need to be protected from Point A to Point B… And the trip in between can certainly be a bumpy ride! Moving blankets are perfect options to provide added protection and padding during a potentially bumpy ride. So invest in moving blankets to keep your stuff in good shape. Pro tip: Avoid using bedding comforters or duvets, which aren't as thick or weighted.
If you're hiring professional movers, you're in luck! Just let our movers know if you'll need moving blankets and we'll bring them along. No matter which moving company you're going with, check to see if they'll bring blankets along for free or if you'll be charged.
How to Stay Safe While Packing Your Garage
When done incorrectly, it's incredibly easy to get hurt while packing and preparing furniture for a move. This is especially true when packing your garage, where everything is larger, heavier, and nothing looks like it could fit neatly into a box.
If you're packing your garage alone, use the safety tips below
.
1. Don't Lift More Than You Can Handle
While it might sound obvious, you should never lift more than you think you can handle. If it feels heavy, odds are you're setting yourself up for an opportunity to get hurt. There's nothing wrong with taking a few trips instead of getting it done all at once, especially considering you'll have to unpack that stuff you're moving once you get to your destination — if you get hurt during the load-up, how will you unload? if you book professional movers, they'll do the loading and unloading/heavy lifting for you!
2. Treat It Like a Workout
Would you go work out at the gym in a pair of jeans and a button-up? Would you start lifting weights without warming up and stretching? Of course not. So, as you prepare to pack your garage, stick to wearing clothing that's generous, fits well, and stays comfortable throughout the bending, lifting, and stretching you'll inevitably have to do.
Think of packing your garage as a workout. Here are some ways you can prepare yourself:
Wear appropriate clothes.

Stretch before and during the moving process to keep yourself from pulling a muscle or being too uncomfortable.

Get enough sleep, drink enough water, and take breaks as needed (especially if you're

moving during the summer

when the heat is intense).
Tricks to Moving Heavy Objects in the Garage
You should never move a heavy object alone. Even if it takes one, two, three, or even four extra pairs of hands, you're still much better off getting help than doing it by yourself. The added help will relieve some of that burden and help you move those hefty objects you never could have moved on your own.
Keep in mind these age-old lifting tips as you're preparing to move heavy objects out of your garage:
Keep the object you're lifting close to the hips as you move it.

Maintain a stable, balanced position while you lift and again while you walk.

Make sure you've got a good grip on the object; otherwise, it'll slip right out of your hands.

Always lift with the knees while leaving the back straight. Don't bend your back when lifting.

Never twist your back or your body when lifting and moving.
Whether you're moving heavy plant pots or that old mini-fridge you only use for drinks, these tips and tricks will ensure you can safely move heavy objects without getting injured.
Wrapping Up
When all is said and done, nothing is more important than staying safe and following the rules when packing to move a garage. If this sounds like way too much to handle, don't be afraid to call for help. Reach out to us for help with packing your garage and leave it to the pros!