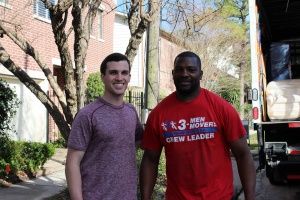 Choosing a moving company is a big responsibility and one to take seriously. You should never feel pressured or uncomfortable when it comes to booking with a moving company. Some people will just head to Craigslist for the cheapest fly-by-night movers or beg their friends with beer and pizza to help them move. More than likely, though, you are at a point where you no longer want to put your valuable possessions in the hands of the untrained and inexperienced. Choosing a professional moving company is a safer choice and we want to make sure that you know the telltale signs to look for in a quality moving company that will treat your items with the care that they deserve.
A good, solid moving company worthy of your business is more than just some guys and a truck. There is a lot of hard work & professionalism required to build a trustworthy moving company that retains a positive reputation in the community and earns repeat business over time.
Here are the main ingredients to what makes a moving company worthy of your business:
1. A moving company isn't just a mover or two. A good moving company is one that has existed for years, has multiple moving crews and trucks and offers multifaceted services to make your move go smoothly. The company shouldn't exist solely of movers and moving sales people. There should be experts on hand to assist you with questions before, during and after your move, as well as provide other services offered to make your move go smoother, like portable storage, self-storage, and professional packers.
In addition to the above mentioned, it is a great sign if the moving company that you are considering is involved in the community. A company that has employees and leaders that are involved around town and the community they live in with charitable organizations is a good sign that you have found a company that cares about the clients they move on a long-term basis.
2. The movers employed are the experienced and professional. A moving company should hold the integrity and work ethic of their movers to a very high standard. The movers essentially make the company. If a company really is worthy of your business, then they will put substantial effort into training their movers to provide excellent customer service.
Training, retaining and maintaining their quality and ethics should be a high priority. This information should be clearly visible on their website or included in their promotional materials.
The movers at 3 Men Movers, for example, have;
Intensive training. The movers are trained in customer service, moving and weekly on specific topics and subjects to make them better movers even if they have been with the company for decades.
Crew leaders have passed extensive background checks. This important in guaranteeing only the most trustworthy are employed.
They must all hold valid commercial driver's licenses.
They have all passed DMV physicals to determine that they are fit for the job.
Each mover maintains top notch quality of their moving trucks and equipment. Monthly inspections are done to ensure this.
Over half, the movers at 3 Men Movers have been with the company for over 10 years. A quarter of the movers have been there over 20 years.
3. The best moving companies take care to make sure you are well informed and comfortable with every aspect of your move. A moving company that is better than the rest makes sure to provide their customers with friendly, informative staff to answer and handle any questions they may have about the move.
It is also a good sign if a moving company takes the time to have a very informative website and an industry blog. This shows that the customer is truly their priority. A good moving company may also provide moving tips to answer a wide variety of topics and questions.
So the time has come for your family to move to a new home and you have been put in charge of finding the moving company to expertly handle that task. If you are holding off on booking with one of the first moving companies that you have spoken with, that is a good thing. Make sure that you are looking for the right things when you choose your mover.