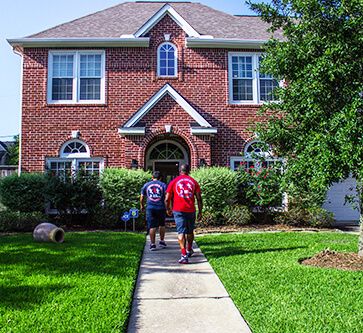 Moving is often stressful, but moving during a domestic violence situation is even worse. We realize that just getting the courage to get out is hard enough, and you shouldn't have to worry about your move on top of everything else. That's why we work so hard to protect customers who might be afraid during their move. We believe you deserve to trust your Houston movers to protect your privacy from start to finish. Here's how our Houston moving company can help.
WE UNDERSTAND THE RISKS YOU'RE FACING
When you call us, know this isn't something that's only happening to you. We take care of several of these moves every week, so don't feel uncomfortable or embarrassed to let us know what's going on. Additionally, we realize that every domestic violence situation is different.
Many people assume that domestic violence can only take place between a man and a woman, with the woman always being the abuse victim. And sure, the majority of the time that's the case. But we have also taken care of moves for elderly abuse victims, men being abused and people in same-sex relationships. So you can rest assured we're not going to make assumptions or judgments when you call us for what we've named a "privacy move."
HOW WE HANDLE PRIVACY MOVES
We approach privacy moves differently from others. As the name of the move might suggest, we're just more careful when it comes to discretion, because we know your life may depend on it. The moment you call and explain the situation, we will make a note in your file to ensure your confidentiality.
That note will set your move apart from others, because it will state that anyone who calls in to discuss the move cannot find out any information about it simply using your name. Instead, we will issue you a file locator number, which you will need to use any time you call to talk about the details of your move with our Houston moving company. This way, your abuser can't cancel your move without your knowledge or find out what your new address will be — which we know is always a risk with privacy moves.
YOU CAN TRUST OUR HOUSTON MOVERS
It's moving day, and our discretion up to this point has helped ensure your abuser hasn't canceled or found out any information about your scheduled move. But how can we work together to ensure your safety on moving day?
Well, first know that we only employ careful movers who understand the seriousness of the situation. In fact, one of the top details we focus on during training is how to handle moves for victims of domestic violence. So when you hire our Houston moving company, you'll get help from discreet movers who think through the risks you're facing before making any decisions.
For example, if our careful movers know a female customer is moving to get out of an abusive relationship with her husband, they know to only talk to her about the move. If they call her phone and a man answers, they'll hang up to ensure they're not putting her in danger by cluing him in to the move.
Similarly, our discreet movers will keep your timeline in mind. If you scheduled a move at a time when your abuser is supposed to be at work but he or she answers the door when your Houston movers arrive, they'll pretend they're at the wrong address to ensure your abuser doesn't find out you're moving. Our careful movers have had to do this before. It can be scary, but it works!
YOUR PRIVACY IS CRITICAL TO US
Your confidentiality is a big deal to this Houston moving company. We've had people offer to buy our list of customers so they can mail marketing materials to them, and we always turn them down. We'd never release your personal information. Part of our culture is to value our customers' privacy, especially in domestic violence situations.
So when you make that courageous first step, you can trust that we'll take it seriously from the start. Call 3 Men Movers today to find out more about how we can handle your privacy move.