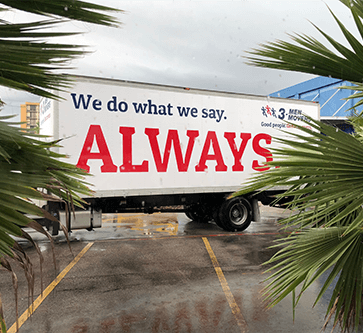 Your new place is ready, your Austin movers are scheduled, and you've even started to pack. Being on top of things feels good! You check weather.com for your moving day and UGH, it forecasts rain. What happens if it's raining for your move?
It would be super if every day was a perfect temperature and sunny. But, that's not the case—especially in Texas where weather is crazy and unpredictable from one day to the next. The great news is that as long as it's not dangerous, 3 Men Movers will be there rain or shine.
If you do have the flexibility, just to avoid you or your things getting wet, it might be best to reschedule. We also know that sometimes you just can't. Sometimes your house is closing, you can only take that day off work, or your lease is up. Here are some helpful things to know if you are moving in the rain:
How You Can Plan for Weather in Advance:
-Check the weather a few days ahead and especially the night before. If heavy rain or storms are forecasted for your moving time, give us a call 24/7 to see if we can come earlier or later.
-If it is raining, and you live where parking is limited, scout out a close by parking spot for the moving truck early so we can carry your things the shortest amount of distance in the rain.
Extra Measures We Take for Rain:
-We will use extra shrink wrap on everything, and extra blankets to protect your items from getting wet.
-If there is heavy downpour, we will stop the clock—i.e. the time you are paying—for up to an hour to make sure your things are safe and dry.
A Few Things You Should Know:
-Taking the proper safety precautions in the rain (driving, loading, wrapping, and unloading) may take a little longer than on a dry day.
-If the weather is really bad and it's just not safe to move you, we will call and get you rescheduled.
Read Customer Reviews:
It was raining hard on the day of our move with a possibility of flooding. 3 Men Movers came in and wrapped everything in plastic before carrying it out. All of our belongings arrived at our new home dry as a bone. Would highly recommend 3 Men Movers. -Pat B.
Prompt, friendly and efficient! Andres Caesar and Javier worked straight through despite pouring rain and my belongings arrived safe and sound! Use them. You won't regret it! -Kelly M
Joe and his team were extremely professional, efficient and a pleasure to work with! Despite dozens of stairs in our four story town home and pouring rain, they were able to get us moved into our new home extremely quickly and with smiles on their faces the whole way! -Allison S
One of our core values at 3 Men Movers is "We do what we say. Always." This includes moving you on the day we say. So, if you need Austin movers you can count on, call us or get your free Austin moving quote.