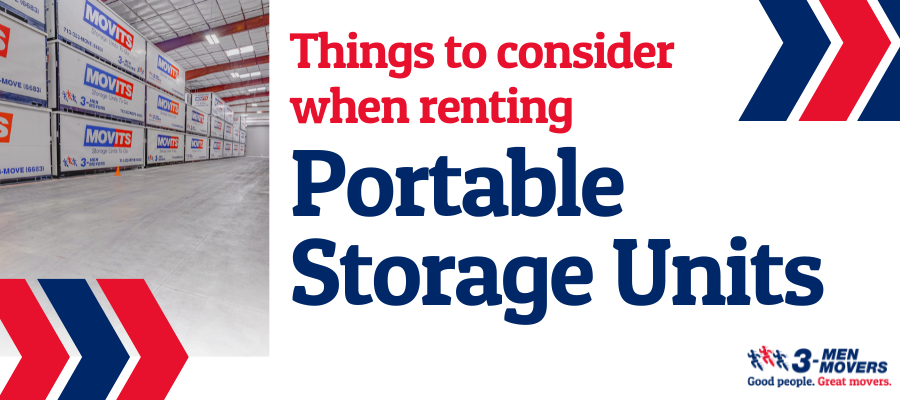 If you're in the market for an easier and more cost-effective storage solution, portable storage units may be the way to go! Whether you're moving to a new area, de-cluttering your house for the spring season, or just needing extra storage space in general, portable storage units offer customers convenience and flexibility. They also offer a lot of advantages over traditional self-storage. Before making a decision if portable storage is right for you, it's best to weigh your options and consider factors like price, size of unit needed, location availability, etc. In this article, we will cover all these topics and equip you with the knowledge to ensure that when deciding to rent a portable self-storage unit that's right for your specific situation.
Here are some questions to ask yourself when deciding if portable storage units are right for you:
Do you want to load it yourself?

How much space do you need? Do you need more than one container?

Do you want to store it in your driveway or transport it to a secure, climate-controlled facility?

Does your HOA allow portable storage units to sit in your driveway?

How long will you need the items stored?

Do you want to load it yourself?
Perhaps the biggest question to ask yourself when it comes to portable storage: do you want to load it on your own, or leave it to professionals? While loading it yourself could save you some money, make sure you're familiar with proper loading techniques if you choose to go the DIY route. Putting too much in one container or not utilizing space properly might mean damage to your valuables during transport. There are companies that include professional moving services for loading your portable storage unit in the overall price! This saves you time, energy, AND money! Be careful though, many portable storage companies actually outsource the labor to contractors, so you don't always know who will be showing up to load your unit. Do your research and make sure you're getting trustworthy, professional help if you choose to have it loaded for you.

How much space do you need? Do you need more than one container?
Let's talk about storage space. How much of it do you need? Do you need a large container? Need more than one container? It all depends on how much stuff you've got! Are you a minimalist with just a few things to pack away, or are you a collector with a ton of treasures? If you're somewhere in the middle, one large container might do the trick. But if you're a packrat or just have a lot of equipment, you might want to go for more than one. Don't be afraid to lay it all out and see what you've got. If need packing tips and advice, check out this resource!
The typical large portable storage unit holds enough boxes and items to store approximately a 2-bedroom home. If you have a 3-bedroom home, or you tend to have more belongings you may need more than one unit. However, maybe you aren't needing to store everything. A good idea may be to begin sorting and organizing everything that you need to put into the storage unit in one area of your garage to see what you've got. Most large portable storage units are 16'x'8'x8' or 835 cubic feet, however, there are some available that are 25% larger, at 20'x8'x8' or 1280 cubic feet!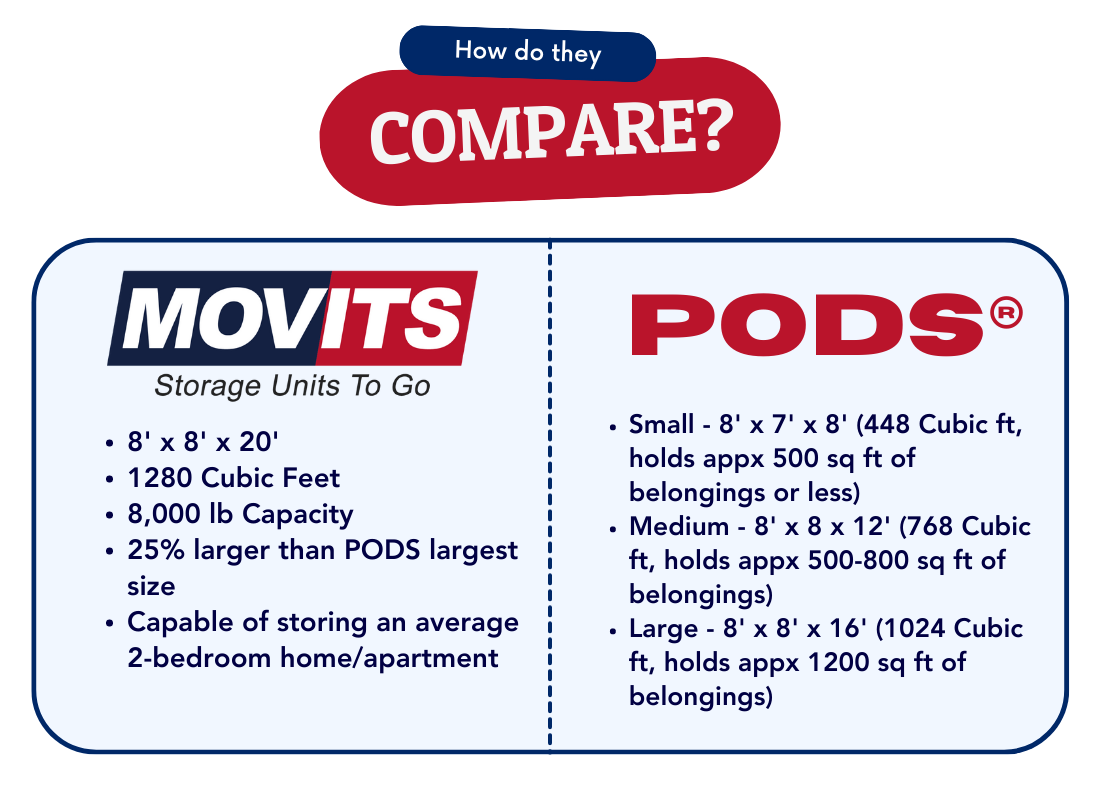 Do you want to keep a portable storage unit in your driveway or transport it to a secure, climate-controlled facility?
The beauty of portable storage units? They're portable! You've got a couple of options here: you can park it in your driveway or take it to a fancy, climate-controlled facility. There are circumstances where it's more convenient to just keep it on your property, but there are a few things to consider first: these units are big and take up a lot of space. Plus, you're exposing all your belongings to the elements, and you could be in violation of your HOA bylaws (more on that later!) If you want to keep your stuff safe and sound, we highly recommend having it transported to a secure facility once it's loaded. Not only will it protect your valuables from the weather, but it's also monitored around the clock, giving you peace of mind.

Does your HOA allow portable storage units to sit in your driveway?
Imagine this: you've just spent all day carefully packing a portable storage unit as you prepare to move. It will conveniently store your items until you're ready to move into your new house. Perfect! Then you receive a nasty letter from your HOA (Homeowners Association) stating that you can't keep the unit in your driveway. What a pain! Sure, HOA regulations can be annoying, but we know they are in place to maintain the appearance and standards of your neighborhood. So, does your HOA allow portable storage units to sit in your driveway? It's important to check the rules and regulations before renting one. It might be helpful to reach out to your HOA and ask for clarification. Better yet, get a portable storage unit that will transport it to a climate-controlled facility for no extra charge!

How long will you need the portable storage unit?
Portable storage can be a smart move. But one thing to ask yourself is: how long are you planning to keep it for? A week? A month? Maybe even a year? The possibilities are endless, but you may want to consider other options if you're needing long-term storage. Think about what you're storing and how much time you'll need to keep it stored. Perhaps a self-storage unit is a better option if you won't be needing these items transported elsewhere in the near future, or you want easy access to the items any time you need them. If you want to store items long-term, self-storage may be a better option as well. However, portable storage units aren't just for moving - you can use them for all kinds of needs. If you are remodeling a room and simply need to clear it out short-term, portable storage may be right for you! Do yourself a favor and consider which option is best - before you get it all packed up and loaded!
How much do Portable Storage Units cost compared to Self-storage?
While most storage prices do fluctuate based on demand and seasonality, portable storage units can be a more cost-effective solution than traditional self-storage for many reasons. For starters, portable storage typically offers a lower upfront cost, as you don't have to pay hefty deposits and long-term contracts as you do with self-storage facilities. Additionally, portable storage also offers greater flexibility; you can rent short-term or long-term depending on your needs and you don't have to worry about being locked into one location. Plus, instead of having to haul everything yourself, the company will do all the heavy lifting for you! For portable storage, you are most likely looking at anywhere from $170.


All in all, there are a lot of things to consider when you're thinking about taking on a storage rental project. From finding out how much space you need, determining where it is going to be stored, and consulting your HOA regulations, it is important to get all of your ducks in a row before choosing your storage unit. Whether you decide to rent a portable storage container and transport it yourself, or if you opt for the convenient option of storing it in a secure facility where everything will be taken care of for you – make sure that whatever route you choose meets the needs of both yourself and the items being stored. Taking on any project requires due diligence; so ask all the questions you need until you feel confident that whatever solution you settle on is absolutely right for you.
Related Tips