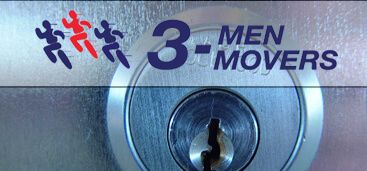 Quick Disclaimer
Please note that we are full service household movers that can also move safes that weigh under 600 pounds. While we can move "just a safe" please know that the two hour minimum will still apply and that we do not have special hourly rates for one item.
Weight Limits
At 3 Men Movers, we do not charge extra for overweight and specialty items like safes that are 300lbs or less. The safe is simply treated as a furniture item.
3 Men Movers are experienced, safe movers. Things to keep in mind when moving a safe with 3 Men Movers:
Safes under 300lbs have no additional charges.
For a safe between 300-600 lbs, we will charge $100 per flight of stairs that you
request us to move it up or down.
We are only equipped to move safes that weigh up to 600 lbs.
Please note that it is the mover's discretion to make a professional analysis of your move. When our movers arrive at your location, the team of movers will make a professional judgment on whether or not they are equipped to move the safe. Moving heavy items require specialized equipment, extra labor, and there are liability charges. With 3 Men Movers, the only surprise you will experience is how easy we make your move.
Not every moving company is able to deal efficiently with items like safes. So when it is time has come that you not only need movers, you need safe movers, call 3 Men Movers. We know how to do the job right. Get your free quote today!