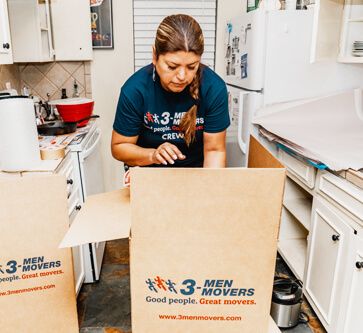 Packing is one of the most time-consuming parts of moving. So why not outsource it to the experts? If hiring professional packers has never crossed your mind, it's time to consider it for your next move. Not sure if you'd benefit from a packing service? Here's how to decide if it's right for you or if you should stick to packing on your own.
The Advantages of Packing Your Own Belongings
The main advantage of packing up on your own is saving money. If you're on a tight budget for your move, professional packers probably don't fit into it. And that may be okay anyway if you don't have a lot of items to pack. For example, if you have a small apartment or just don't like keeping too many things in your house, packing might be a breeze. The same goes if you have a lot of time before your move, since you can spend days or even weeks packing if you need to.
In addition, if you're a private person who doesn't like people in your space, you might want to pack on your own. Professional packers will need to spend a few hours in your home putting your belongings in boxes. Although they'll be gentle and respectful of your possessions, they're going to have to handle them in order to pack, and some people are uncomfortable with this. So if you're the only person you trust to handle your belongings, a packing service might not be right for you.
The Advantages of Hiring Professional Packers
The main advantage of paying for a packing service is that you'll save time, which is huge. It's not unusual for people to spend weeks or even months packing up their home. So if you're pressed for time–which we've found most people are when they're moving!–you'll want to splurge on a packing service. After all, it's one less thing to do during your move, and as you look at your long to-do list, you'll appreciate the chance to check off this major task.
If you're not sure how much time you'll save, picture yourself picking up and trying to pack everything you own. How much time and effort is going to take you? Before you answer, keep in mind that if you're like most people, you're going to find yourself going down memory lane every five minutes! Imagine yourself trying to pack your photo albums without cracking them open and reminiscing for hours.
Now apply that same scenario to every other sentimental item you own. Do you really have that kind of time in your life as you prepare for your move? Probably not! Professional packers won't be opening your photo albums, nor do they have any memories associated with your collection of figurines. So you can trust that they'll simply be efficiently packing away your belongings–after carefully wrapping up any delicate items with their professional packing materials (another bonus of hiring them!).
Still Not Sure?
Maybe you're torn on what to do, because you don't have much extra money to hire professional packers–but you also don't have time to waste going down memory lane every few minutes. Well, you can always make a compromise by first getting rid of any belongings you don't need anymore. Spend some time before the move cleaning house and finding what "sparks joy" as Marie Kondo advises, and then sell, donate or toss the rest.
Now that you have a lot less to pack, you can hire professional packers to pack up whatever you have left! This way, you can afford to hire a packing service for a few hours, which will in turn save you time so you can complete the rest of your moving to-do list.
If you're ready to hire professional packers for all or some of your move, contact 3 Men Movers. We have locations in Austin, San Antonio, Dallas and Houston, so just contact the office nearest you!