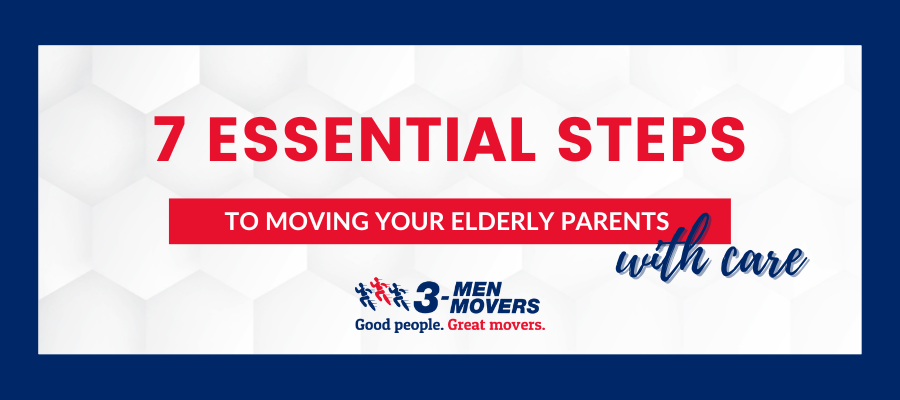 Moving seniors into a new environment can be a difficult decision, and it is important to approach it with empathy and understanding. With the right support, moving your elderly parents can be done safely and comfortably. We have compiled a senior moving checklist with steps to make the move as stress-free as possible.

1) Approach Your Parent with Empathy
When talking to your parent about the move, it's important to be mindful of their feelings and approach them with empathy. Ask them about their thoughts on the matter and listen to their concerns before making decisions. This will help ensure that you both feel comfortable with the process.
2) Determine the Level of Care Needed
In order to know what type of living arrangement is best suited for your elderly parent, it's important to assess their individual needs first. If they have specific medical or mobility needs, then a nursing home or assisted living facility may be the best option. If they are more independent and do not require assistance with daily activities, then an independent living facility may be better suited for them.
3) Research Housing Options in Your Area
Once you have determined what type of care is needed for your elderly parent, start researching different housing options in your area to find one that fits their individual needs. Ask for recommendations from friends or family members who might have experience in these matters as well.

What is the Difference Between Independent Living, Assisted Living, and Nursing Homes?


It's important to understand the differences between independent living facilities, assisted living facilities, and nursing homes when making a decision on which kind of environment would work best for your elderly parent. Independent living communities generally offer more freedom compared to other kinds of senior care, but come at a higher cost due to amenities such as housekeeping services or recreational activities. Assisted living centers provide more structure than independent living facilities and give residents varying levels of assistance with daily tasks such as dressing or bathing depending on each individual's needs. Nursing homes offer 24-hour medical care from nurses and doctors should any health issues arise during residency there.
4) Go on Facility Tours Together & Get Their Input


Before settling on a particular residence for your elderly parent, make sure you both go on tours together so that they get comfortable with their surroundings before moving there permanently. Additionally, getting their input through this process ensures that all parties involved feel secure in choosing one facility over another based on personal preference rather than necessity alone.
5) Help Them With Downsizing
Depending on where you are moving them from (a house or apartment), downsizing may need to happen in order for everything to fit comfortably into the new space provided at the residence—depending on whether it is an independent living facility, an assisted living community, or a nursing home—so helping out with sorting through items may save time and effort later down the line while ensuring nothing gets left behind during transit either due finances restraints or time constraints preventing further visits once moved out completely! Downsizing also allows older adults struggling financially to ease some burden off themselves without compromising their comfort level within the new home setting by ridding items no longer used often such as furniture pieces taking up valuable square footage!
6) Contact Movers & Packers Who Specialize in Senior Moves
Once all items have been sorted through during the downsizing process call local moving companies with experience in relocating seniors. One advantage of hiring a company offering moving assistance for seniors is that they have professionally trained workers who handle heavier items like furniture pieces safely without residents or their families risking injuring themselves. In addition, sometimes for an additional cost, these moving companies pack and unpack, as well as organize for their clients. Explore options such as movers who will offer professional packing material specifically and boxes specifically designed to protect fragile items like china glassware. Nostalgic and family heirloom items will be important to your senior family member to protect.
7) Be There To Make Their New Place Feel Like Home
Moving into any kind of unfamiliar environment can be difficult especially if they are leaving their long-time home including friends and neighbors they are familiar with. Ensure a fostered sense of belonging despite these changes by incorporating regular routines, familiar decor, and help them find ways to continue to practice their favorite pastimes. If they are moving into a home with regularly scheduled activities, see what events they may be able to get involved in. Perhaps visiting the library and joining a book club that meets every week, or celebrating fellow residents' birthdays and attending small gatherings with their new friends. Invite the new next-door neighbor over for coffee, take a morning stroll around the complex, etc… Make sure even though circumstances changed, they are still able to remain the same person with the same interests as always.
Moving elderly parents out of their homes is not easy, however, with proper planning and the help of certified professional movers, it can be done safely and successfully. It's important to have a plan in place that takes into account all of the necessary precautions and logistical details needed to make the move as stress-free as possible. With the right tools in hand, you can ensure that your loved one is moving to their new home safely and comfortably.
FAQs:
Will moving be stressful for my elderly parent?
Yes, Moving can be a stressful experience for anyone, but this is especially true for elderly people who may have limited mobility and physical strength. Making the transition to a new home can cause anxiety and disorientation, as well as lead to feelings of sadness at leaving familiar surroundings. The good news is if you prepare your elderly parent both emotionally and physically before moving day by making sure they are comfortable with the idea and have the support they need, the transition can be smooth and they may even enjoy their new home and simplified lifestyle.

How can I make it less stressful?


Start by involving your parent in the planning stages of the move, ensuring they understand why it is happening and giving them plenty of advance warning. Let them pick out a few items that are meaningful to them, and pack their belongings ahead of time. Make sure any important documents are easily accessed as well. Utilize a moving company that specializes in senior moves. During the move itself, provide support for their physical and emotional needs in addition to searching out help from family or friends. Lastly, have a plan for managing emotions on the last day and saying goodbye to their old home

.
When should I consider moving my senior family member?

When considering whether or not to move a senior family member, you should take into account their physical and emotional state. Is living independently becoming increasingly difficult for them, either due to health issues or safety concerns? Are they still safe and able to get around comfortably in their current home? These are all important questions to ask before deciding if the time is right for a move. You should also consider any preferences your family member may have when it comes to where they want to live.
What support is available for seniors and caretakers?
There are many resources available for elderly individuals and their caregivers to help ease the transition of moving into a new home. Local government organizations can provide information about housing options, in-home care services, or other support programs offered in the area. Professional caregivers may also be employed to assist with activities such as meal preparation, transportation, and medical appointments. In addition, there are numerous online and in-person organizations that provide guidance on navigating the transition process and offer emotional support for both seniors and their caregivers.
If you would like to get a quick estimate for moving your senior parent, get started here. If you would like more tips from our senior moving experts, please visit this page.