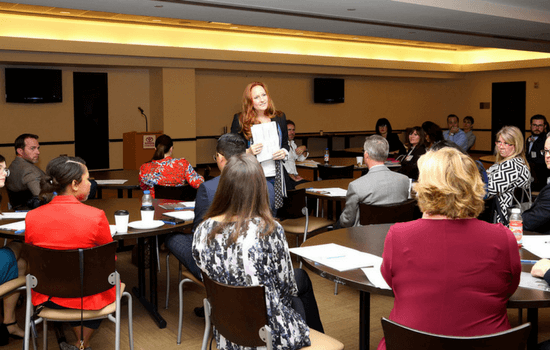 The Toyota Center, home of the Houston Rockets, was the perfect backdrop to talk about why leaders should take off their Superman capes, and invest in building an accountable team of all-stars. "Every time you solve a problem for someone on your team you rob them of the chance to grow." That's what 3 Men Movers CEO Jacky Noons hit home as the keynote speaker of Artemis Partners' most recent STRIVE Thought Leaders event.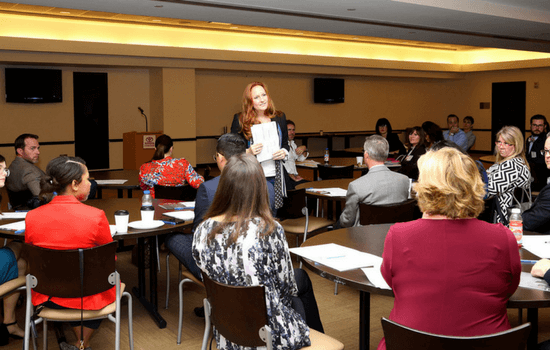 When Noons first purchased the company from her father in 2004, she had no experience as a business owner, but over the years she has honed her ability to manage accountable, autonomous teams using three guiding principles.
1. THE BIG PICTURE
Your leaders don't need a Superman, they need someone to empower them and to let them make their own decisions.
Look in the mirror. You should be setting the example.
Don't run to the rescue. Instead ask for solutions. If the solution doesn't sidetrack business or hurt profitability, let them try it, even if you see another path.
Stay away from modifiers. Erase "kind of", "pretty much", and "almost" from your vocabulary. Projects are either done or they aren't.
2. DON'T HOLD ACCOUNTABLE, HIRE ACCOUNTABLE
When you interview ask about a time they failed. You're looking for accountability, not finger pointing.
Assess your people every quarter. Don't wait half a year (let alone an entire one) to cut low performers. Open that seat up and try again.
3. GOAL SETTING
Create and publish your company's three to four big goals for the year.
Let your leaders set their quarterly goals (these should promote reaching the annual company wide goals). They must put metrics around what achieving the goal looks like.
Use 30 minute, weekly 1-2-1s to let them update you on their progress to their goals.
One name per goal. Individuals need to know exactly what projects they are running point on.
Following these guidelines, Noons has been able to double down on her "people assets" and grow her business from $3 million dollars in annual revenue to $25 million.
When asked about her personal trials in building an accountable leadership team, she admitted that it hasn't been an easy road. Holding onto "floaters" (poor performers with a great attitude) or "untouchables" (high performers with a bad attitude) longer than she should have used to be difficult. However, having clear goals spelled out makes these decisions much more clear-cut.
Noons drove home that while she supports and mentors each of her leaders, she also pushes them to solve their own problems stating that, "everybody deserves to feel successful."
The full session can be viewed on Youtube.