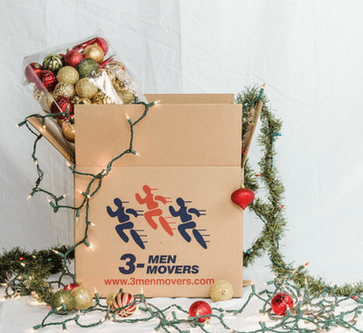 HOLIDAY MOVE HERE I COME:
The holidays are here, and what better way to celebrate than to bake pies, attend holiday parties and start packing all your belongings to move to a new home? Wait, one of these doesn't sound quite as festive as the others, right? We get it. Your favorite holiday movie never showed a family filling boxes and moving to a new house. But that doesn't mean moving during the holidays has to be the worst. So if your most pressing question right now is "how do I survive moving over the holidays?" the short answer is to declutter, pack early and often, stick to your holiday traditions, don't try to host gatherings right now, avoid packing up all your decorations and–finally–schedule movers way in advance. Here's more on what you need to know to make your move over the holidays.
Declutter Your Home First
Everyone has some clutter in their house. It's just that they might not notice it until it's time to move, at which point it becomes a big deal. As you begin to plan your move, tackle your clutter first. This happens to be a great time of year to donate items you don't want, so start by taking your unwanted belongings to a local charity. You can also try selling them for some extra cash for the holidays. Then throw away anything that's broken or unusable. Now you should be left with the belongings that are worth packing up and taking to your new house!
Start Packing Early
We probably don't have to remind you that the holidays are super busy. So give yourself some breathing room by starting to pack as soon as you know you're moving, even if it's a month ahead of time. Surely there are some household items you rarely use and can pack right away. Then make sure to pack another few boxes every week until you're done. And if you look around a week before you move and realize you don't have time to pack everything, consider hiring professional packers to get the job done as efficiently as possible.
Keep Your Holiday Traditions
We get that you're busy doing everything that moving during the holidays entails. It's tempting to skip the typical holiday traditions because they take time and money, both of which are at a premium as you move. But we encourage you to keep in mind that the new house doesn't count as a present, so you should continue with your traditional holiday gift exchange to keep things as normal as possible. This is especially important if you have children, who probably won't understand that their new room is actually their only present this year–no matter how awesome it is.
Don't Try to Host Holiday Gatherings
Okay, maybe don't keep every single holiday tradition. If you normally host dinner around the holidays, find out if another family member can host it instead. Otherwise, you'll be facing added stress as you try to make your house look worthy of guests while also moving. Your family members will likely understand, especially if you assure them you can still bring your famous apple pie for dessert!
Keep Your Decorations Close at Hand
If you're moving right before the holidays, you'll probably want to decorate your new home soon after you move in. Make that easier on yourself by packing your decorations separately from your other belongings, making sure to label them. This way, you can quickly put them up in time to celebrate the season. In fact, our packing crews can even put them up for you if you'd like!
Schedule Movers Far in Advance
Movers are busy during the holidays, too, so be sure to schedule moving day as soon as you can. Ideally, you should schedule professional movers about two to three weeks ahead of time to make sure you get the date you want. And keep in mind that some movers–like us!–do help customers move even on holidays like Christmas day. So if that's the day you want, don't be shy about scheduling your move then. Just do it as soon as possible to get it on the books. This way, you have one less task on your to-do list to worry about as the holidays approach!
Ready to move during the holidays? We'd love to help you! Just contact 3 Men Movers today for a free quote on our moving, packing and storage services around Houston, Dallas, Austin and San Antonio.