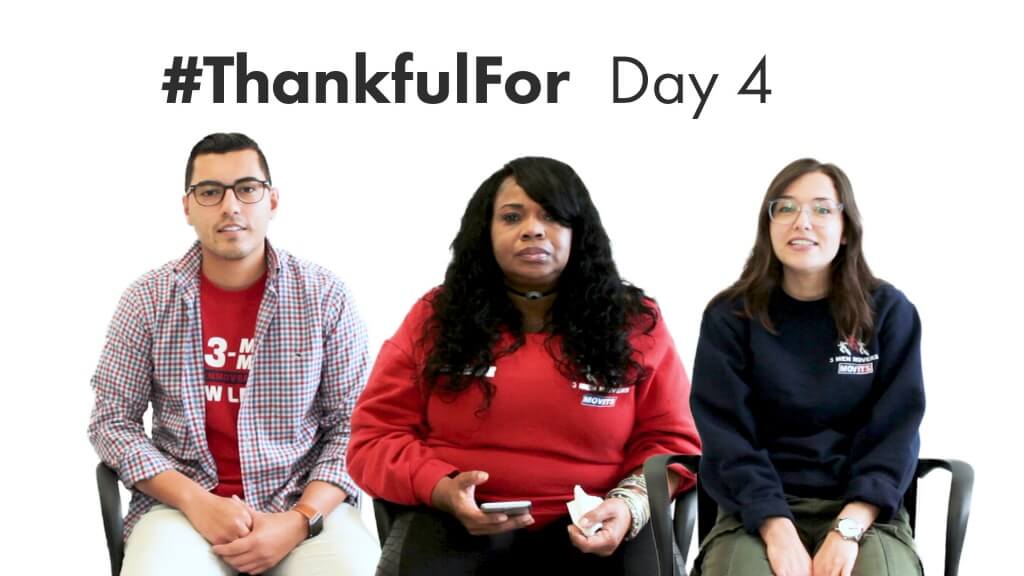 We asked our Team what they were thankful for and they needed more time to think about than we thought.
Video Transcription
This is the start of our 3 Men Movers thankful series. In lieu of the holiday season, we asked our team to talk about the things that they're grateful for. Check out our full thankful series as we express how thankful we are for our pets, families, significant others, health, friends, and more!
I love you so much and I think about you all of the time. I just wanted to take the time to say that and I know that you know it already but this is for you and it's for me too.
My mom got cancer this year and totally kicked it's ass. So I'm so thankful to the universe and to her for her fighting spirit. All the time that I get with her it's even more precious now. Sometimes it takes a crazy life event to see that and I'm one of those lucky people that I get to have more time with her.
I'm thankful for my mother for always being there for me and always pushing me to be better and to do more no matter the circumstances and to always be the bigger person.
Every day I think about the times that you taught me so many different things like remember when all the kids got chicken pox and I was the only one who didn't want to go outside and play and everybody learned how to skate and I didn't learn how to skate but you let me skate in the kitchen and that's where I learned how to skate, in the kitchen. I'll never forget that time and it just felt so special because even though you were so picky about your floors you didn't care you just let me go ahead and skate in the kitchen with those chicken pox.