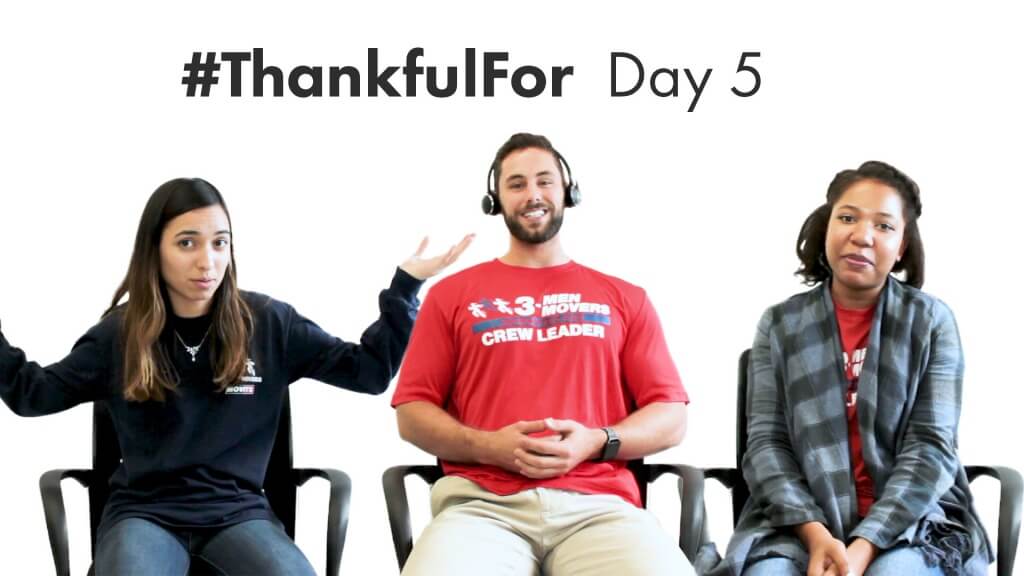 We asked our employees one question in a room by themselves. We got everything from touching to comical and love every answer. We are #ThankfulFor each and every one of them.
Video Transcription
Thankful that we're doing this because I'm away from the desk.
Family and friends is always the go to but this year I'm honestly thankful for my work family. 3 Men Movers has honestly changed a lot for me and the culture's great so I'm honestly just thankful for everything that's happened and 3 Men Movers has been a big part of that. I got to see so many beautiful acts of kindness from people in this office behind me after the hurricane. I spend more of my time here than I do at home and it's great to be able to do that with really, really good hearted people. I'm grateful for my job, 3 Men Movers, the people here and what I do. Every day I learn something new and it help me not only here but outside of here. I'm thankful that I have a good job that I enjoy to do and I come to work and I'm happy to be here so that's always nice. I'm grateful to 3 Men Movers and all of the support that they've given me. So moving to Houston for me was a really big change I'm originally from Birmingham and I went to school in Philly and I when I moved to Houston I didn't know anybody. So what I've been most thankful for this past two years that I've been in Houston and in this position are all of the people that have made me feel at home in Houston and at this company. It's a crazy environment but it's full of great people. I'm thankful for the family that I have here at 3 Men Movers, it's been great. I'm thankful for my sales team y'all are very helpful. I'm thankful for this job. I've been working with this company since 1999, I love this company. The love of my employees. I just think I'm surrounded by love and I'm very thankful. Thankful for my 3MM family. Is that it? Yep! Cut!