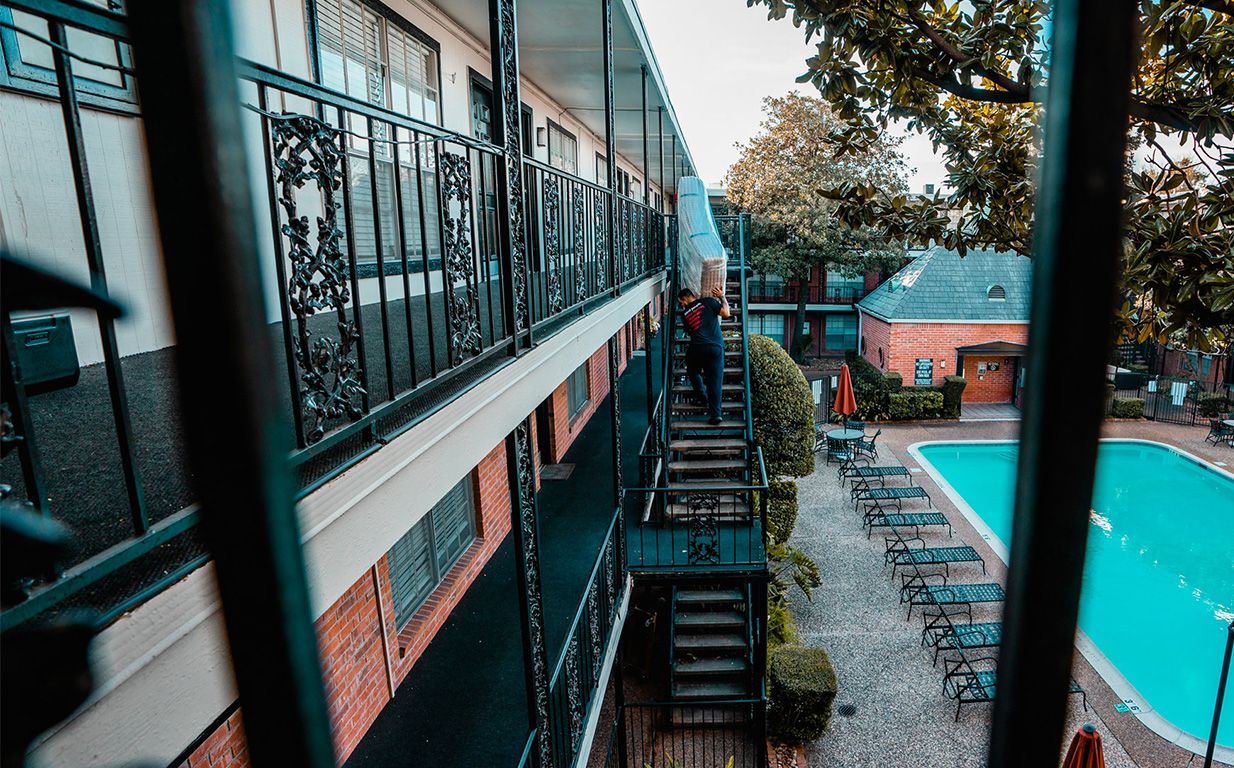 Many people in Houston, TX live in apartments, from small efficiency apartments to beautiful high rise condos. As a moving company in Houston, we are moving Houstonians daily from apartment to apartment, apartment to home or vice versa. Apartments are by far some of the most underestimated moves when people book a moving company. It is important to be informed of what to look for when you are moving and booking a Houston apartment mover.
Accordingly, we have decided that if we are proactive and help you the mover to be ready for these hurdles, it will make things easier for both parties involved. We have happily gotten together as a company and figured out what are the most commonly forgotten things when someone is moving from or to an apartment. So kick back, relax and soak it in.
1.) Understand the booking time when you book your apartment move.
Seriously, we know this sounds simple but it is even more important when you are moving and you have an apartment complex to work around. When we say this, we mean to get the specifics on both sides of the move, from the apartment complex guidelines on moving to the specifics of when and what your moving company can do for your apartment move.
When you book the move with your moving company, ask specific questions about the time. Make sure you ask what time exactly the moving company will show up. Most times with moving companies, the only time they can give you an exact time that the movers will show is if you are the first move of the day.
It is also important when coordinating times for your move to talk to your apartment complexes and make sure that they do not have any time restrictions on moving. This is by far one of the most common problems Houstonians run into when they are moving apartments. A lot of times apartment complexes, especially nicer ones, have restricted times that they allow movers in to move their residents. This is easily forgotten when you are running around trying to remember a million things to make your apartment move better, but it is very important. There is no sense having a mover at your apartment at 6 AM if they are unable to move until 9 AM. This can cause major confusion and cost a lot of extra money on what could have been a cheap apartment move.
2.) Check with your apartment complex to find out if there are any restrictions on moving in or out.
Every apartment complex or condo is different, especially if it is a privately owned apartment complex so be sure to talk with the proper authorities to make sure that you know off any and ALL restrictions they may have for moving. Speak with the apartment you are moving from and/or the apartment you are moving to about restrictions.
3.) Know where your movers will be able to work.
Sometimes apartment complexes only allow moving companies to use certain elevators or back stairwells. This is typical in Houston, especially in sky-rise apartment buildings. If this is not communicated to your mover it can easily cause problems with your apartment move for many reasons.
Size – Many back stairwells and utility stairs in apartment complexes are on the smaller side. The mover needs to know this to prepare, and also to guide you before the move on the best way to keep your movers working quickly and efficiently.
Time – If your movers only have a certain amount of time and they are restricted to a very small stairwell or elevator it is going to make the move take a lot longer and if you communicate this to your mover before the move they may be able to guide you to more efficient ways to complete your move.
Parking – Apartment complexes will sometimes restrict where moving trucks can be parked. Preparing for this and informing the mover, helps prevent you from having confusion first thing on move day.
Rest easy, your apartment move will be over before you know it. Just take from this how important it is to not underestimate proper planning for your apartment move. Communicate any restrictions and a good Houston mover will have you moved into your new home in no time.