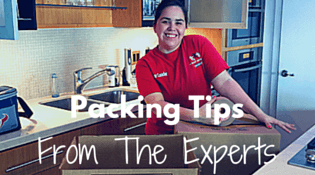 The Easy Way To Pack Before Your Move
I don't think anyone has ever enjoyed the idea of packing before a move. Most people dread the daunting task of having to pack their entire house into a few cardboard boxes. Whether you are moving out of a studio apartment or a spacious four bedroom home, packing your countless valuables can always seem a bit overwhelming. Try these packing tips to make your packing painless:
Use a moving checklist: If you're not sure where to start, having a moving checklist can get the process started. Using a checklist will not only help you get started, but also keep you organized during the moving process.
Pack one room at a time: Packing one room at a time will help you stay organized. It is also a good idea to label each box, so you remember where each item went. You can also create a color coding system by using colorful stickers to indicate where each box should go.
Take inventory of boxes: As soon as you start packing, number the boxes as you go along. Keeping track of the number of boxes will give you a better idea of what size truck you will need for the move. Additionally, you will know if a box is missing at the end of the move.
Use wardrobe boxes: This eliminates the need to remove hangers and fold clothes into boxes. You can take your clothes straight from the closet rack into the box, and when you arrive at your new place it also makes unpacking a breeze. You can also place light items that take up space underneath the clothes, such as pillows, towels, or blankets.
Reduce clutter: Most people tend to save things that they do not have use for anymore. Consider having a garage sale or donating items you no longer need. Not only will this save you time on packing, but it can also save you money by cutting down on the packing supplies you'll need to purchase.
If you'd rather forgo the packing process, many moving companies provide packing services for an additional charge. These services aim to save you time by properly packing and stacking your valuables in preparation for your move. Whether you hire professionals or tackle the task personally, packing properly can definitely create a happier move for you and your movers. Happy moving!