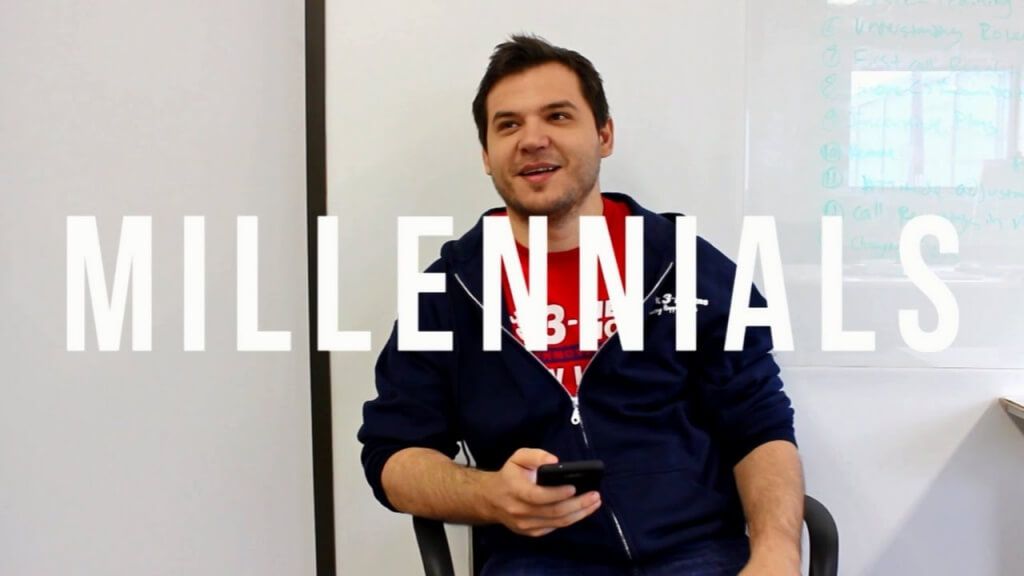 The millennials of 3 Men Movers have something to say.
Video Transcription
Hi I'm Kate, Hi I'm Lauren, Hi my name's Jeremy, oh hi my name is Eddie,
Hey my name is Paige, Hi my name is Andrew.
We heard in the office that there's a bit of a generational divide.
I'm a Millennial.
I know that you guys have a couple of issues with the way we work. So I thought we could clear some of that up today. not necessarily what you're thinking is wrong about us more in the sense that it's a misunderstanding.
So I mean just off the top of my head for example Lauren okay she's our content marketing specialist she's always head down phone constantly. she's not doing that to tweet with her friends or to send a quick text about the next happy hours she's actually responding to our customers here we have a 30 minute response rate so within 30 minutes she responds our customers whether they're happy , sad, or otherwise because we want them to know we're here.
Really having your phone is like your computer or having a tablet. Just because I'm on my phone does not mean I'm not working.
Let's take Eddie for example. Eddie is our web developer and I think a lot of people see him more as the IT guy instead of the technologists. So might look like he's just getting to roam the internet all day long or maybe his core function using power tools to fix a pc or fix that excel formula just can't seem to work. But what he's really doing is ensuring our website up and running and it looks great because the way we represent ourselves digitally means so much more now than it ever has.
We use technology for research and we use it to learn information just because it has so much available to us. So the next time you see a millennial on their phone or on the internet chances are that we're actually building something or we're creating something.
Another misconcepción would be Andrew for example: short attention span. It's not that we have ADD and have possibly been overmedicated for most of our childhoods. In Andrew's case he has a short attention span because everybody needs him. Andrew's brilliant and he wears so many hats around here so usually his problem is after you're done working with Andrew there is probably a line of about three other people who need him.
I like feedback and I know other people do. Paige for example, she's always running back and forth to Jackie's office and it could look like Paige can't make a decision for herself but really we're just trying to get stuff right like branding or ensuring that our drivers don't need anything. So while it seems like we constantly need to be praised for our work some of that is we just need a little more information from you.
I don't think that you can judge a whole group of people based off of a set of a few bad eggs.
There's a perception that millennials jump around from job to job. Jeremy's in the boat where he's just got a lot of talent and a lot of skill and he's exercising his abilities He's a senior at the University of Houston to jump around and see what's out there. Not a bad thing but a good thing. We want our interns to be curious about the world.
You're kind of misguided in the way that you're thinking about us and why we do certain things that we do.
Maybe your opinion of our generation,
if you look at it in a different light we're not so bad after all.