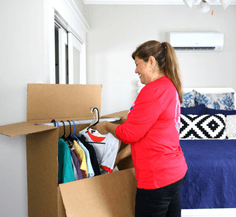 Planning for an upcoming move? Dreading the process of packing your closet? If so, you're not alone. Packing your clothes for a move usually takes the longest of all your belongings because there are so many individual pieces, especially if you're sartorially inclined. However, there are a few tips that will make packing your wardrobe quick and painless!
PURGE YOUR CLOSET
The very first thing that you should do is get rid of all the clothing that you can. If you haven't worn it in over a year, take a hint from Frozen and let it go! Donate or sell everything (Buffalo Exchange is a good place to check out) that you aren't using. This makes a world of difference in the packing and the unpacking process.
START PACKING YOUR OFF SEASON CLOTHING FIRST
What you don't want to do is start packing only to end up digging through your carefully packed boxes the next day. Start packing your off season clothes about three weeks before your move and work your way up from there. If you pack a little bit at a time it won't overwhelm you.
UTILIZE WARDROBE BOXES
When packing clothes, wardrobe boxes are going to be your best friend. They're generally more expensive than standard boxes but they'll keep your clothing wrinkle free and save you a lot of time because there's zero folding involved. Speaking of folding…
TAKE THE TIME TO FOLD YOUR CLOTHES NEATLY
Even though it's tedious, do yourself a favor and fold your clothes neatly. Throwing all of your clothes into trash bags may seem appealing but you'll save space, keep your clothing protected through the process of moving, and cut down on wrinkles by taking the time to do things the right way.
DON'T FORGET ABOUT YOUR SHOES
You've made it to the last "step" of your packing journey (see what we did there)! If you are using wardrobe boxes, stack your shoes in the very bottom of the wardrobe box to make use of all the space. Otherwise, use packing paper to wrap each shoe, secure the paper with tape, then pack the shoes tightly in a box. If you're packing tall shoes like boots, wrap the entire shoe with paper and stand it up in the box, and pack other shoes around it.
IN CONCLUSION
Packing your clothes for a move doesn't need to be the cause of stress and heartache. Just be sure to purge your closet before you begin packing, start the process three weeks out with your off-season clothes, make use of wardrobe boxes, and make sure to pack your clothes neatly and carefully!