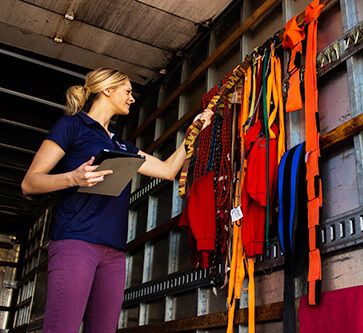 Stressing out about your move? Not sure what your movers will and won't do when the big day comes? Well, if you hire an experienced Dallas moving company like us, you can cut that stress right in half, because we bring all of the tools you're move requires. We have over dozens of trucks in our fleet, and they're all equipped with the following:
Moving Essentials
There are some moving tools you just can't do without, and we bring 'em all. Dollies are a great example. As strong as our Dallas movers are, they can't lift refrigerators with ease unless they have the help of a dolly. In fact, our crews bring a few types of dollies – both four-wheel and two-wheel. You'd be amazed at our movers' ingenuity with dollies – they are an absolute MUST HAVE.
The regular two-wheeled dollies are perfect for rolling boxes out the door, while four-wheeled dollies are good for larger items. And of course, appliance dollies work well for the fridge, washer, dryer and so on. Some of our trucks even have piano boards to get that baby grand safely out the door and into your new home. Handy, right?
Moving Supplies to Protect Your Home
Among our most important moving tools are the ones that keep your home from getting damaged. After all, we respect that your home is sacred (it's even in our Movifesto!) so it makes sense to protect your walls and floors from getting scuffed and scratched.
We do this by putting down some cushioning in the parts of your home where we expect heavy traffic during the move. Our movers carry either neoprene mats or Masonite, which is soft particleboard that keeps floors from getting scratched. As a plus, this surface allows your movers to easily roll their dollies back and forth, making your move go just a little quicker.
Supplies to Protect Your Belongings
It's not just your home that's sacred; your belongings are as well. So when you hire the right Dallas moving company, you'll be met with movers who have all the fix'ns to wrap and protect your most precious possessions…and the not-so-precious ones too.
Our crews bring blankets to put over wooden furniture to keep it from getting scratched during the move. Our movers also bring shrink wrap, which can protect fabric-covered furniture. Sometimes we use blankets and shrink wrap together to further protect your furnishings since shrink wrap acts as tape to hold blankets against anything you don't want scratched.
Our moving crews also rely on tie-downs for every move. This essential moving tool keeps everything from bouncing around in the back of the moving truck. After all, that's when your belongings are at the highest risk of being damaged, assuming they're not safely secured in the truck. When we pack the truck, we use tie-downs on every layer of boxes to ensure none of it shifts during the ride.
Moving Tools to Make Disassembly and Assembly Easy
When you hire crews like ours, you get the benefit of movers not only taking large items apart, but also putting them back together at your new home. That's pretty helpful if you don't want to end up sleeping on a mattress on the floor for months because you don't know how to put your bed back together. Don't worry; we've got you covered.
Our movers bring a whole toolbox full of moving tools to make it easy to disassemble and reassemble everything. The cordless drill is one of the most useful tools we bring, and since we rely on it so much to help with furniture assembly, we make sure it's charged and ready before every move. Every moving crew's toolbox also includes flat-head screwdrivers, Phillips-head screwdrivers, Allen wrenches and more. Additionally, every truck has a fire extinguisher, as well as traffic cones to put out in case the driver has to park near heavy traffic.
Finally, each of our moving crews keeps an iPad in the truck. This gives us quick access to all your move details and makes it easy for you to sign at the beginning and end of the move. If you want to find out what other moving tools we carry or would like to get your moving day on our schedule ASAP, contact 3 Men Movers today.