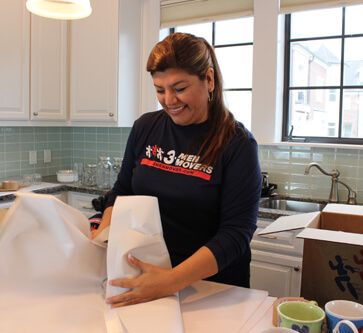 The moving process is so focused on packing and loading everything up that you might forget there's still a lot of work to be done once you get to your new home. Namely, you still have to unpack! And that could take a lot longer than you might think–which is why we all know someone who has a room full of unpacked boxes from last year's move. So you're probably going to need some unpacking tips as you slide into the homestretch of your move. More specifically, you might need some help staying organized as you unpack everything, so take a look at what our professional packers have learned over the years.
Unpack the necessities right away
No matter how ambitious you are, you're probably not going to be able to unpack and organize a house full of items the same day you move in. And yet, there are some possessions that you can't just leave in boxes for days or weeks…like your coffeemaker and your clothes for work tomorrow!
So when you're packing your old house, think about the items you'll need in the first few days at your new home, and be sure to place them in a box with an "X" on it. If you hire professional packers, they can help with this moving must-do. This organizational tip can prevent you from panicking as you run around your new home, ripping open boxes in search of shoes for work!
Put similar items together
Before you start unpacking, be sure to have some organizational tools on hand, such as plastic tubs or bins. This will make it easy to sort your things as you pull them out of boxes. For example, put all the batteries in one little bin that you can place in a drawer in your kitchen as you unpack, and keep the extension cords in one tub that you can put in the garage.
And you know that color-coordinated closet you've always wanted? Now is the time to set it up! As you unpack your clothes, put all your white shirts in one spot, next to all your yellow shirts, and so on. Once your clothes are organized by color, you can organize according to clothing type, such as pants, long-sleeved shirts, short-sleeved shirts, etc. The result will look much better than if you just hang all your clothes in your closet willy nilly, with no clear pattern.
Declutter as you unpack
When you hire professional packers, they'll remind you that you don't need to bring everything with you when you move. It's best to toss or donate anything you haven't used in years. But if you didn't heed this advice when you packed, it's not too late! You can still throw out items as you unpack them. It's much better than spending time finding a spot for things you won't use anyway. After all, the secret to having good feng shui in your home is keeping clutter at bay!
For example, if you're still holding onto a shirt that hasn't fit you since high school, it's probably time to get rid of it. Even if it fit, it wouldn't exactly be in style anymore, right? So it's better to donate it than to take the time to find a spot for it in your newly organized closet.
Keep at it
Want to know the secret to not being that person who has a room full of unpacked boxes months after the move? Just keep going! It's tempting to get a little done at a time so you can take a long break every couple of hours, but you're going to regret that relaxed pace when you're still unpacked next month.
So have it in your mind that you're not going to stop until every single box is unpacked! Clear your schedule, turn on music, get focused, and get to work. And once you've fully unpacked a room, break down the boxes and remove trash so you're not constantly surrounded by moving clutter.
Last things last
The last thing you should after unpacking is relax. That means you should keep it to a minimum until you're done! So if your favorite thing to do in the evening is sitting back and watch Netflix, then the last thing you should do is get the TV mounted, because then you're going to be distracted by shows when you should be unpacking.
So save that task as a reward for when you're done! Use it as an incentive to finally finish the move so your new house looks like a home as soon as possible. And if you find that you need some help at any point in your move, contact 3 Men Movers. We offer professional packers, movers, and moving supplies at our locations in Austin, Houston, San Antonio, and Dallas, and we'd love to help!
Related Tips