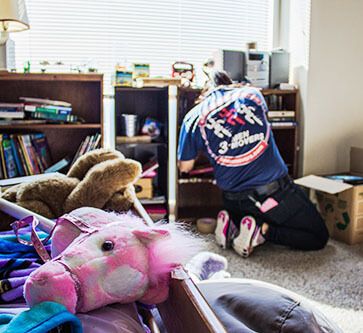 If you recently packed up your house and moved everything into the truck — or at least watched your Houston movers move it all — you probably breathed a sigh of relief. But it turns out the job's not done yet! You still have to unpack, and that alone could take you weeks if you don't have help. In fact, some people seem to spend a lifetime unpacking after a move, as evidenced by the boxes still in their study years after they've moved in! It's okay; it happens to the best of us. You get busy and forget to unpack all those high school yearbooks and trophies from your childhood that you rarely look at anyway. But if the idea of being unpacked a year after your move bugs you, here are some tips from your local Houston moving company.
JUST DO IT
You know how you got through the packing phase of your move? Your motto was probably something like "never stop moving," mainly because you had to be out by a certain date or you'd be locked out of your old house! Well, you might not have a firm deadline for unpacking after a move, but that doesn't mean you need to take your sweet time, either.
In fact, consider making a deadline for this task, and then treat yourself when you meet this goal. It might mean scheduling time to unpack a little every weekend before you do anything fun. Once you're completely done with the job, you can go get that much-needed massage or buy that couch you've been eyeing for your new living room. Just pick a realistic deadline and a treat that will truly motivate you!
UNPACK THE IMPORTANT BOXES FIRST
Yes, all your belongings are important, but surely you have a few favorites. You know, the things you can't go without, such as work clothes, your toothbrush, a cherished coffee cup, etc. Whatever boxes those are in are the important boxes, and you should unpack them first.
If our Houston movers helped you pack, you probably labeled the most important boxes with an "x" to help you organize after moving. That makes this task easy since you won't be running around frantically looking for your kid's sports uniforms right before a game, or trying to find the blow dryer as you get ready for work.
START WITH THE ROOMS YOU USE THE MOST
Not only are there important boxes, but there are also important rooms. As you might guess, these are the areas you'll spend the most time in right after you move in. They typically include the master bedroom, at least one bathroom and the kitchen.
If our Houston movers helped you pack, they labeled all boxes according to what room they should be in. This makes it easy to organize after a move, since all boxes are in the right rooms. So unpacking after a move should consist of going right to your most used rooms, leaving the study, loft or den to be unpacked last. After all, unpacking after a move the right way is all about prioritization.
BE ORGANIZED FROM THE GET GO
As you begin unpacking your most important room, keep in mind that you probably won't be moving around anything in your house any time soon. Not when you're still recovering from the whole moving process, anyway! So do it right the first time.
This is your chance to make your master closet the relaxing space you've always wanted. So take a hint from your favorite show on HGTV and really organize after moving all your clothes in. This might mean arranging your clothes by color, hanging a jewelry organizer on the door and putting up a pretty picture to inspire you as you get dressed every day.
In fact, you might want to stock up on storage containers and organizers for all rooms before you start unpacking after a move. When else will you have the chance for such a clean slate? Now is the time to make your new house your perfect home!
If you're already feeling overwhelmed, enlist the help of a Houston moving company. 3 Men Movers can unpack your whole house in one day so you're not still dealing with your move weeks or months later. Contact 3 Men Movers–Houston today to get a quote!