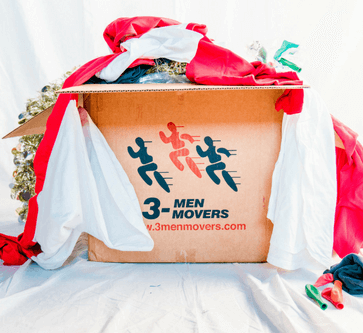 We've helped with a lot of moves throughout Texas, and we always look forward to the feeling of accomplishment we get from packing a truck to perfection! But what happens when your belongings won't fit into one moving truck?
If you're worried about this occasional occurrence, go ahead and breathe a sigh of relief, because we're fully prepared to deal with it without ruining your moving day. Not only that, but we also know how to prevent it. Here's what you need to know before you get concerned about whether everything you own will fit in one truckload.
KNOW OUR BACKUP PLAN
We don't want you to lose sleep over the possibility of not fitting everything in the moving truck. When you hire 3 Men Movers for the big day, you always have options. Rest assured you won't have to start tossing your most prized possessions in the trash just because they won't fit on the truck. Instead, our movers will just make a second trip!
After all, we only have two numbers to keep in mind when figuring out how much the move will cost: our hourly rate and the Transparent Travel Fee. This is the fee you pay for 3 Men Movers to get from our facility to your home and back again. So don't worry. If we have to make a second trip, we won't charge you two Transparent Travel Fees. So all you have to add to your total is our hourly rate, as your move will simply take longer if we need to make a second trip.
HOW TO AVOID THE NEED FOR A SECOND TRIP
Though it's not the end of the world if you need a second trip to move all your belongings, it's more efficient to avoid it whenever possible. You don't want your move to unexpectedly drag on all week, right? That takes time away from important tasks, like picking out décor for your new home. Luckily, keeping your move short and sweet is as easy as considering three factors.
SQUARE FOOTAGE
First, get a moving truck that's the right size. We keep it simple by offering two moving truck sizes. Basically, if your home is 2,000 square feet or larger, you get a Super Size truck that's large enough to fit everything, as it's a 48-foot 18-wheeler. Think that's a bit overboard for your move? Well, it might be, if your home is less than 2,000 square feet in size. That's why we also have a regular 24-foot moving truck to handle a small to medium amount of belongings.
LARGE ITEMS
Another way to ensure a smooth move is to let us know about the big items in your home. If you have sectional couches, king-sized beds, executive desks, or any other large items, telling us about them ahead of time will be a big help. We might decide to bring you a Super Size truck to ensure we can fit everything — saving you money and time on your move by avoiding a second trip!
DISTANCE
If you're moving around the corner or even staying in the same city at all, making a second trip really isn't that big of a deal.
But, when you're moving to a different state, it's a bit more of an inconvenience.
Unless you're one of those rare people who love moving, you're probably not going to be thrilled with stretching out the moving process by a few days, and that's what a second trip could do on a long-distance move.
In fact, you may even need to ship your car if you're moving a substantial distance away.
So it's particularly important for us to work together to ensure you get the moving truck you need!
Now that we've got you thinking about how to plan your move, we might as well get you on the schedule! Just contact 3 Men Movers with the moving date you have in mind, and we'll let you know how to proceed so you have a smooth, efficient move in Texas.