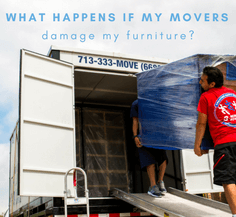 The moving industry has a dirty secret, the truth is that the state requirements surrounding claims are not designed to protect you. If you're dealing with an experienced and professional mover, they should take measures to prevent your belongings from being damaged. But let's be honest, things happen. If lamp drops, a wall is scratched, or a piece of furniture is dinged most movers use the law in order to ensure that you're never fairly reimbursed for their mistakes.
They Don't Have to Fairly Reimburse You for Damages That They Cause
If your mover drops a designer lamp and it shatters, you'd think that they would be obligated to provide you market value for the lamp right? Nope! Movers in the state of Texas are required to provide you with a settlement that is measured by the weight of the item, not the value. The state requires that in the event of a damage movers are required to provide 0.60 per pound per item. What that means is that if your lamp weighs 8 pounds, your movers would only be required to give you $4.80 after destroying it.
They're Not Required to Get Back to You in a Timely Fashion
On top of not having to rectify their error by giving you what you deserve for your damaged belongings, they don't even have to respond to you in a reasonable amount of time. According to state requirements, you've got 90 days to file a claim with your moving company, which provides you with plenty of time to unpack and inspect all of your belongings. However, your movers have up to 20 days before they are required to even acknowledge your claim and a whopping 90 days to either deny or make a settlement offer. Pretty crazy huh!
If They're Illegal Movers They Could Leave You in the Dust
The moving industry is riddled with illegal companies that pop up overnight and begin operating without a license. Often, these companies have fake addresses and even phone numbers that are mysteriously disconnected when a client whose belongings have been damaged tries to get back in contact with them. You could be left with damaged items and no way of tracking them down. Or even scarier, they could load your belongings into the truck and disappear with it all. Before you book, search the company's name on the TxDMV Truckstop app. If they are verified movers, their credentials will show. If not, you should think twice before booking with them.
How 3 Men Movers Does Things Differently…
1. We Use Our Expertise to Prevent Damages From Occurring
Our damage claim rate is pretty impressive, under 2% (not to brag); which isn't easy to maintain considering that we handle up to 2,800 moves during our peak months. 3MM crews take great measures to prevent damages including wrapping your furniture with shrink wrap and blankets to keep it protected, pack your belongings tightly in the back of the truck to prevent the items from shifting, we take care when we are loading/unloading to prevent furniture from scratching your walls, and our crews even roll out a blue carpet to protect your floors!
2. If Something Goes Wrong, We'll Be Here to Make It Right
For the 2% of clients that do experience a damage during a move, we go above and beyond to do everything that we can to make the situation right. We believe in accountability and every one of our clients has a number to call and a person to talk to in the event of something going wrong. In fact, the person that you would be speaking to is our Claims Manager Norma! She responds to all claims within a week, and she does everything in her power to ensure that each client's belongings are either fixed or replaced.
IN CONCLUSION
At 3 Men Movers, we understand that your belongings are more than just material possessions; they're your memories and should be respected as such. However, there are many moving companies out there that abide by the state requirements and will not go out of there way to make things right. Be careful who you book with and choose a mover who's on your side!