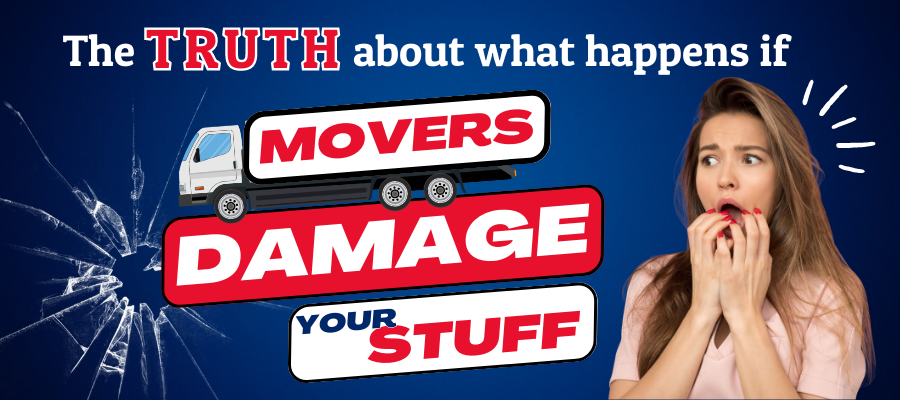 Let's face it, things can get damaged when you move. If you are worried about your furniture getting damaged during your upcoming move, you may have good reason to be, depending on the company you hire! Since state requirements for claims are not designed to protect you, movers are not held accountable and may not provide fair reimbursement for damages. But don't worry, we're here to help.
Understanding Texas Laws About Moving Company Damage Claims
Have you ever wondered about the fine print of a mover's liability? Here's what you need to know: all licensed movers in the state of Texas have a standard liability of 60 cents per pound per article they transport. Yes, unfortunately, that means that if a 50-pound TV is damaged during the move, the mover is only required to reimburse you $30. Keep in mind that you can negotiate for a higher level of liability, but there are no guarantees on the outcome. It's also worth noting that the mover's liability limit is not the same as insurance. So if you want additional protection for your items, it's up to you to obtain extra insurance.
Now, let's talk about claims. If there are any disputes about charges, loss, or damage to your items, the state requires that you must file a written claim with the mover within 90 days of delivery. Your claim should include specific monetary amounts requested or other solutions you are seeking. The mover then has 20 days to respond to your claim and 90 days to pay, deny, or make a settlement offer. If the claim involves damaged goods, you need to preserve the containers and the damaged goods for inspection. So don't throw anything away! And please note: if your mover doesn't receive the claim within 90 days of delivery, your claim can be denied. So be sure to file that claim on time!
Protect Your Belongings By Using a Trustworthy Moving Company
The first step to making sure your valuable items are protected during a move is to ensure you are using a reputable moving company. Sadly, the moving industry is riddled with illegal companies that pop up overnight and begin operating without a license. Often, these companies have fake addresses and even phone numbers that are mysteriously disconnected when a client whose belongings have been damaged tries to get back in contact with them. You could be left with damaged items and no way of tracking them down. Or even scarier, they could load your belongings into the truck and disappear with it all!
Before you book a mover, search the company's name on the TxDMV Truckstop app. If they are verified movers, their credentials will be listed. If not, you should reconsider booking with them. You can find this searchable database at www.TxDMV.gov to verify whether a mover is properly registered. You can also contact the department's Enforcement Division at 1(888) 368-4689 to obtain information regarding a mover's complaint history. Knowledge is power when it comes to entrusting a company with your home and belongings!
How 3 Men Movers Does It Right
Our experience and expertise have earned us a less-than-2% damage claim rate (not to brag, but hey, we're proud!) How did we achieve that? It's simple, our amazing crews take great measures to prevent damage from ever happening in the first place! This includes wrapping furniture with shrink wrap and blankets to protect it from scuffs and scratches, carefully carrying items to/from the truck to prevent damage to walls and doorways, and strategically loading the truck to prevent shifting during transit. Our crews even roll out a blue carpet to protect the floors!

If something does go wrong, we have an incredible Customer Care department that always responds to concerns in a timely manner and does everything possible to rectify the situation. Your belongings are important to you, so they're important to us too. 3 Men Movers respects that your home is sacred and strives to treat it as such!