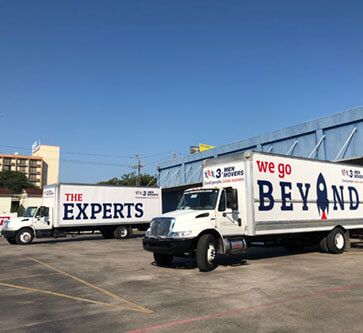 If you're ready to hire a Dallas moving company for your upcoming move, we at 3 Men Movers would be happy to help you. But before we can get you on the schedule, you'll have to answer some questions. One is, "Do you want a morning move or a flex move?" If your first response is, "Um, what?" then it's safe to say you're not sure what the difference is. Here's what you need to know about morning moves vs. flex moves–and their pros and cons.
Morning moves are predictable
Well, the name of the move kind of gives this away, but a morning move happens first thing in the morning. That means our Dallas movers will show up at the agreed upon time, typically at 8 am. So as long as you're ready to get moving in the morning–meaning you don't have any last-minute packing to do!–a morning move should work for you.
A lot of people like morning moves because they're pretty predictable. You know when your Dallas movers will show up, and depending on the size of your house, you know they'll get done sometime in the late morning or early afternoon. This is ideal if you have a tight schedule on moving day, such as when you have to pick up your kids from school at a certain time or get to a storage facility that closes at 5 pm. And if you live in a high-rise and have a set time during which you reserved the loading dock and elevator, you'll appreciate knowing when your local movers will arrive.
Flex moves start after a morning move finishes
Kind of like the morning move, the meaning of a flex move is baked into the name! In a word, it's flexible. This means the start time is variable, because it will take place once we're done with our morning move of the day. Granted, you'll still have some idea of when we'll arrive, since we'll call you once we're on the way.
As a rough guide for when to expect our Dallas movers, note that the average move takes four hours, though moves can range anywhere from two to ten hours or so. Why the wide range? Well, sometimes when our local movers show up for the morning move, customers aren't fully packed, or they need us to take away furniture they don't want. And since part of our Movifesto is that We Go Beyond, we always stay until our customers are completely satisfied.
That means the flex move might not start until late afternoon or even early evening. Just think of it like flying. If the first plane of the day from Dallas is delayed, it can't take off from Houston on time…and neither can our moving trucks! But as long as the morning move goes smoothly, our Dallas movers should be able to arrive at the flex move in the afternoon. That gives you time to finish any last-minute errands in the morning while you wait for your local movers to arrive. So if you still need to finish packing your clothes, or you need to drop off some unwanted items at a local charity, you'll have a few hours to do all this before our Dallas movers show up!
Whether you want to schedule a flex move or a morning move, we'd be happy to help! Just contact 3 Men Movers today to get in touch with a Dallas moving company that will get a team of local movers to your house when you need them.
Related Tips