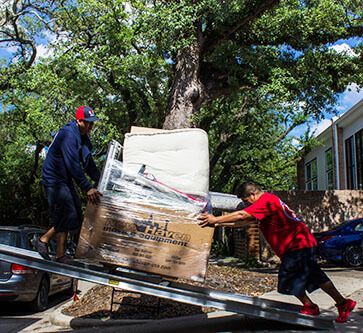 As you pack up your house before you move, you're likely to discover that you have way more possessions than you thought! And you don't necessarily want to bring them all over to your new home. Once you come to terms with just how many belongings have been going unused for years, it's time to figure out what to do with them. It's easy to donate or toss the smaller items, but what about the heavy things, like furniture and appliances? So the question now is: What do you do with the bulky items you don't want? Well, it turns out your San Antonio movers can help pack your unwanted furniture in the truck and drop it off at a donation center. Here's what to expect from this moving day process.
How Can Your San Antonio Movers Help?
Maybe you have an old fridge stuffed behind boxes in your garage or you just realized you haven't sat on that couch in your bedroom in over five years. Naturally, your new home is a clean slate that you'd like to keep, well, clean and free of bulky items you won't use. If you don't think anyone would want to buy your old furniture, you might wonder if you should just throw it out. But it often costs money to throw away furniture at a dump. So your only good option is likely donating your furniture if there's still a little life left in it, but how do you get it to the donation center if you don't have a truck? That's where your San Antonio moving company comes in.
As long as you make arrangements ahead of time, the San Antonio movers you hire are typically happy to load up your unwanted furniture in the moving truck and take it the donation center of your choice. To make the process easier, they'll load the unwanted furniture last, at the back of the truck, so it's easy to remove. Keep in mind that you're paying for your San Antonio movers' time, so the quicker and easier the drop-off is, the better! That's why it's helpful to come up with a plan ahead of time.
How to Make Arrangements Before the Move
Once you realize you have more unwanted furniture than you can dispose of on your own, it's time to call your local San Antonio moving company to let them know you'll have some furniture to donate on moving day. This way, your movers will make a note to plan for a quick detour between your old home and your new place to drop off your furniture at a donation center.
Before you talk to your San Antonio moving company about your drop-off plan, make sure there's a donation center near you. Check this list of charities that will typically take your unwanted furniture. Some of the donation centers you might be familiar with include Goodwill, Salvation Army and Habitat for Humanity, but there are a few others to choose from as well. Some centers even allow you to schedule a pick-up from your house, which means you won't have to worry about loading and dropping off furniture on moving day. But if furniture drop-off is the only option, be sure to find out when the center closes so your San Antonio movers can drop the furniture off before then. After all, moving day often runs late, so you might not be dropping off until the evening or night.
If you're worried about what to do with your unwanted furniture, give 3 Men Movers a call. We're one San Antonio moving company that would be happy to help you donate items to charity without interrupting moving day!