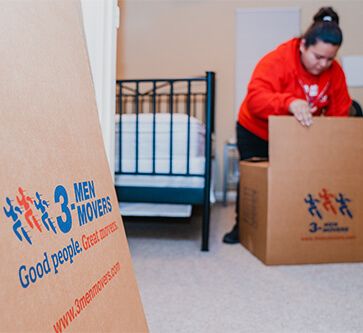 Moving can be a stressful–but exciting!–experience. It always involves a lot of change– whether you're moving a few streets away, or moving to a new city or state. It's easy to forget what you need to take care of with so much going on, so we've put together a checklist of important things to do when moving! Go through this checklist as you are preparing to relocate. You can also download our easy to read checklist on PDF here!
Moving Out of Your Old Place
There are lots of tasks you should do while you're still in your current home, long before moving day arrives. In fact, the sooner you get these things done, the better! So whether you have a few weeks or months before your move, focus on getting these completed:
Put in any necessary notices to your apartment complex or property manager, since most rentals require a certain number of days' notice when you end your lease.
Reach out to a real estate agent if you need to sell your home, since the home selling process can take months.
Use the USPS website to forward mail to your new address.
With these next two tasks on the moving checklist, depending on where you're moving and who your provider is, you can possibly transfer your services to your new place and pick the start date. Just make sure to do these in advance so you aren't sitting in the new place for a week without cable, internet, power or gas!
Cancel/change or set up Internet or cable services.
Change/cancel or transfer utilities from the old house to the new home.
Planning for Moving Day
Now it's time to plan for the perfect moving day. You should do this at least a few weeks before the big day to make sure you have time to get everything done without having to pull an all-nighter right before you move. Start with these items:
Book movers (and with our online booking service, you can book as early as you want!).
Decide what to keep, sell or toss.
Start packing the items you keep, or hire packers to get this job done.
Create a box or bag with all of your valuables that will stay with you during the move.
Find a storage facility or portable storage if needed.
Limit grocery purchases days before the move so you don't have to pack and transport a bunch of cold or frozen food.
Clean out your old place to avoid fees (look at your lease to see what kind of cleaning is required).
Cancel paid memberships that aren't transferable.
Say goodbye to your neighbors.
Making the New Place Feel Like Home
Once you arrive at your new house–or even days before if possible–you should complete some tasks that will start helping you feel at home. The following are some examples of things to get started on right away:
Fill out your new inventory form.
Update your address with your bank and other important websites.
Update or get renter's or home insurance.
Set up your garbage services, as well as any other utilities you didn't set up before you arrived.
Scout out your new area for necessities like grocery stores, parks, gyms, vet, etc.
Meet your new neighbors.
Make new friends near your new home–with a little help from these handy tips.
Unpack or hire unpackers to unpack all your belongings in your new home.
As you might realize by now, the key to not losing your mind during a move is planning! So as you get ready to move, prepare these things ahead of time in order to fully enjoy your new adventure. And if you want a stress-free moving experience, contact us at 3 Men Movers today!