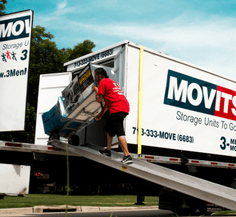 Portable storage is a convenient alternative to a traditional storage unit given that portable storage comes straight to you. However, after deciding that you want to use portable storage you are faced with the obstacle of choosing the right company. Trying to decide between a MOVITS portable storage or a PODS unit? Keep reading to find out which option is better for you!
WOULD YOU RATHER HAVE A ONE CALL DOES IT ALL EXPERIENCE?
There's no juggling with 3 Men Movers and our portable storage solution, MOVITS. We take care of it all. In one short call you can schedule the delivery/pickup of your MOVITS portable storage unit and we can schedule your pro moving crew! When your unit is efficiently loaded, you pay one bill that covers the transportation of your unit and the cost of labor. PODS just handle storage, 3 Men Movers is a one stop shop. We can get your belongings moved, stored, and even packed if you need us to!
DO YOU WANT HANDS FREE, PROFESSIONAL LOADING?
If you want to be responsible for loading the storage unit then a PODS is the way to go, but if you want hands free loading, a MOVITS is your best option. Our crews are background checked, have a damage claim rate under 1%, and are experienced at what they do. PODS refers outside movers, but with 3 Men Movers you are getting a crew that you can trust. While PODS does refer movers, with 3 Men Movers you are guaranteed to receive a background checked, professionally trained crew.
DO YOU WANT THE UNIT TO GO TO STORAGE SAME DAY?
It is 3 Men Movers policy to deliver, load, and bring the unit back to our storage facility same day.
With PODS, the unit is dropped off at your home. You fill the unit, and PODS returns to collect the unit the next day, unless you opt for a rush order which will be an extra fee. With MOVITS, neither you nor your neighbors will have to deal with a bulky storage unit in your yard or on your street after it's been loaded by our crew.
DO YOU WANT MORE SPACE?
The largest portable storage unit that PODS offers is 8x8x16, while a MOVITS standard container is 8x8x20. A 3 Men Movers unit can provide you with 25% more space per container! If your move requires two containers we can also bring two units at a time, loading them one at a time.
IN CONCLUSION
If you crave the peace of mind that comes with having professional movers expertly load your portable storage unit, a one fee – one call move, and more space per unit, then MOVITS is the option for you! If you want to handle the loading process then a PODS may be the best option for you. No matter which option you choose ensure that you consider all of your needs before you make a decision on which portable storage option to go with!