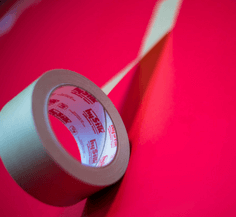 One fatal flaw in the packing process is choosing the wrong type of tape. Brown paper tape is the way to go when packing. Leave the clear, flimsy tape behind!
Your time is going to be precious as packing a home is no easy feat. Not only will this hack save time it will also save you time and lots of frustration. How? You're about to find out!
YOU NEVER LOSE THE END OF THE ROLL
Losing sight of the end of the roll is inevitable with plastic tape. With paper tape, the end of the tape is clearly visible. Point number one goes to paper tape!
NO OTHER TOOLS NECESSARY
Along with purchasing your clear tape, you'll also need scissors and most people find that it works best with a tape gun. With paper tape you don't need any extra supplies, all you have to do is place it and rip!
HOLDS DOUBLE THE WEIGHT
The biggest perk of using brown paper tape is that it is more durable. We found that brown paper tape can support nearly double the amount of weight that plastic tape can support. When you're filling your boxes with books, heavy dishes, shoes, and seasons worth of clothing you're going to want a tape that doesn't cause your boxes to rip open.
IT'S COST-EFFICIENT
You can purchase paper packing tape from commercial sellers like Staples and Amazon. You may find cheaper options for tape but you may have to use twice the tape to make them as durable as paper tape and there's no need for a tape gun which typically costs around $10-15.
IN CONCLUSION
Although purchasing a cheaper tape may be tempting, you have to factor in that you are going to have pack up an entire home worth of belongings which takes a lot of time and patience. You don't want to prolong the process even further by purchasing ineffective supplies.
For more tips on packing your home check out our simple guide on proper packing techniques that save you time and money during your move!