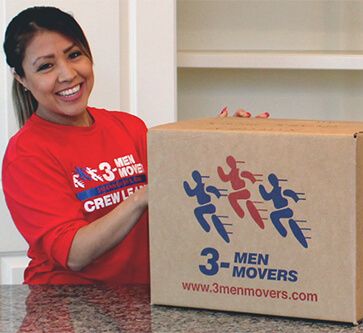 Is time running out before your move day? Feeling overwhelmed? Or do you just want to be doing literally anything else besides packing everything you own into boxes? If you answered yes to any of these questions, then you should consider using one of our professional packing crews!
Our packers arrive with their mobile supply store filled to the brim with bubble wrap, newsprint, and our handy paper tape that you'll never lose the end of. But if you've got supplies already, our packers will gladly use what you have. You'll then walk through the home together so they can get a feel for the entire job – don't let this part stress you out. They aren't judging you for how many things you've collected over the years – they are there to help.
After the walkthrough they'll get to work expertly packing your things room by room. They can pack the whole house, or just specific areas like the dreaded kitchen or hall closet – that's completely up to you.
We can also take care of your unpack after the move. Want your closet color coordinated? Your bed made up complete with the dust ruffle and 8 pillow shams? Our unpacking service is heavenly. You can forget living out of boxes for weeks and be instantly moved in. Ok, ok. Don't just take our word for it. Here's a look at what our customers have to say:
"I was almost panicked the night before the move, so I called 3MM to see if I still could request a packing crew. They were able to schedule me for the next morning (moving day!). I literally felt the weight lift from my shoulders and was able to relax for the rest of the evening. The ladies arrived and surveyed my house to see what equipment was needed, and then retrieved everything from their packing truck. They used protector paper for glassware/stoneware and labeled every box. (The ladies even folded and packed up the clothes that were in my dryer!)" – T Dorn
"I give 3 Men Movers a five-star rating. I hired them to pack my 2-bedroom, 2-bath apartment at the last minute. They came the same day! Dora and her crew were simply AMAZING. They were on time arriving and wasted no time getting started, keeping me at the 2-hour minimum time frame." – Tracie R
"Ycenia and her crew had us completely packed up in under two hours. They did a far better job than I could have done, and I even got to run some errands while they worked. Those ladies are amazing." – Kimberly T
"Our unpackers were great. They put things up and rearranged items as we requested. We would definitely use them again." – Beckie D
"Omg, I had 3 Men Movers staff to pack my one-bedroom apartment on short notice and let's just say, the three women completed the task in just over an hour. Dora and crew were superb. I thoroughly enjoyed them and their professionalism." – Ashley R
"Ana and her crew came to our home (4BR/3BA) in Katy, TX, and had everything packed up nice, neat, and organized in about 5 hours. These 3 ladies worked hard until the job was finished, and maintained smiles the whole time. They came in, looked around the house, and then brought in all of the supplies they would need to do the job. The clock started when the work started, and they worked hard the whole time without a break. I especially appreciate that they made sure to maintain the quality service and care for our belongings until the end." – Tyler W
"Very efficient and well-coordinated on both the pack up and unpacking at the new location. Worth every penny!" – Ted Z
As you can see, our packing teams get excellent reviews from our customers and will provide the same expert care and efficiency you love from our moving crews. Still undecided? Whether you need help packing or just want to hear more about our services for your Houston move, contact us today!