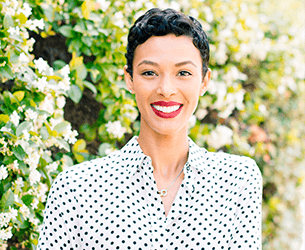 Naturally enthusiastic, tenacious and patient, Shonda is able to harness her abilities to ensure her clients are always well taken care of. Her goal is to ensure that every home buyer she works with really understands the process and trusts that they're in good hands.
ABOUT SHONDA:
Which realtor group are you with? Krueger Real Estate
How she got into real estate: Prior to obtaining her license from Champions School of Real Estate, she worked as an apartment leasing specialist while pursuing a degree in finance. She loved working for and with people, but craved a career path that would incorporate her passion for others with her self-described obsessions for real estate and interior design. When she read about Krueger Real Estate's all-encompassing brokerage model and client-first mentality, she knew she'd found her perfect fit.
How many clients have you helped over your career? 20+
What do you provide to your clients that really makes your service special? "I always want to help my clients find exactly what they're searching for," she says. "There are countless stressors on a daily basis, finding and purchasing a home shouldn't be one of them!"
What areas in Houston do you work in? Inner Loop
What celebrity would you like living next door to you? BEYONCE, of course!
Folks would be surprised to know that…I'm training for UFC
How She Does Business:
Shonda is driven by the experience her skill-sets and inherent qualities allow her to provide her clients, and feels privileged to be able to guide them through one of the biggest decisions of their lives.
One of our own employees worked with Shonda recently and said, "From showing us one place twice to showing us houses the same day we saw them – whatever we needed, she was all over it. Shonda never made us feel like we were asking for too much and I get self-conscious easily. She is awesome!"
In addition to her love for people and the industry, Shonda is passionate about the lifelong pursuit of learning and experiencing new things. As a natural leader with an artistic soul, she enjoys painting and photography, and thinks it's most important to always aspire to inspire.
READY TO WORK WITH SHONDA?
Contact Shonda at shonda@krealestate.com to learn more!