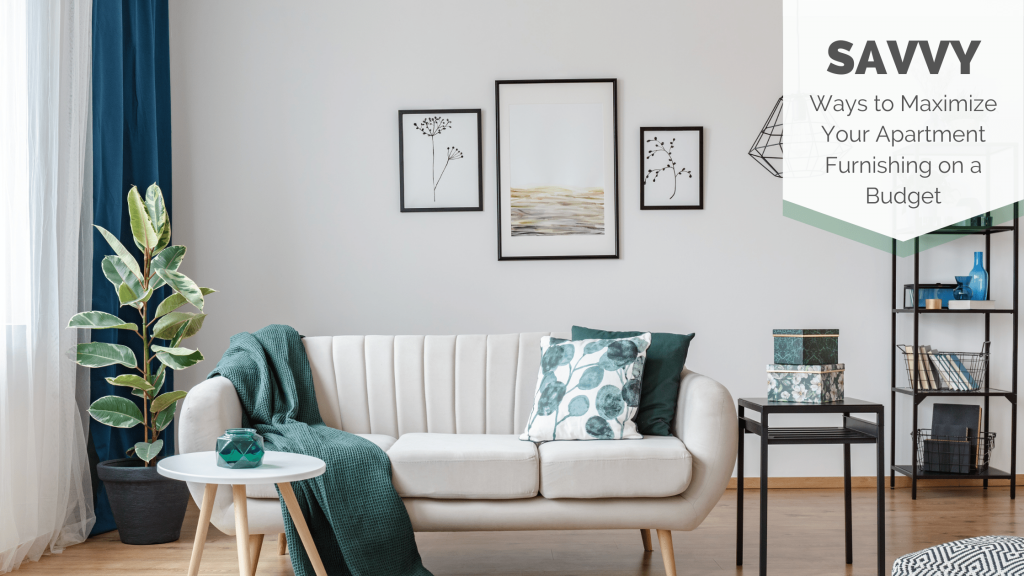 Here's a secret: you actually don't have to stress about your apartment furnishing budget. We've already detailed how much it costs to furnish an apartment, and there are lots of ways to maximize your furniture budget even if you can't exactly stretch it.
In this post, we'll cover:
How and where to get the quality furnishings you need, (all while saving money)
Factors that heavily influence your apartment furniture budget
The best way to hack these influences so you maximize your budget
If you're on a tight budget for your apartment furniture, or if you have limited space, your money has to go far for everything you buy. Each piece needs to be functional and, basically, worth it. Here's exactly how you can maximize your budget to furnish an apartment that you'll love!
5 Ways to Maximize Your Apartment Budget, Get Furniture You Really Need, & Spend Less
1. Use what you already have
The biggest way to stay in control of your apartment furniture budget is to use what you—or family and friends—already have.
Items that you probably already have (and don't have to buy) can include:
Towels/washcloths
Bedding/pillows
Laundry hamper
Clothing hangers
Common items you can ask family/friends for in your new apartment:
Flatware
Kitchen dish towels
Unwanted plates or glassware
Cookware, gadgets, pots & pans
Console tables (these can get pricey)
Dressers
Storage boxes
Shelves/Bookshelves
Small cooking appliances
Unwanted TVs in great condition
Furniture pieces you can get at thrift or consignment stores for under $1,000:
Tables
Bed Frames
Any seating without fabric or cushioning (to avoid insect pests)
Shelves & storage boxes
TV console/entertainment centers
Plates
Dressers
Planters for your patio or indoor plants
Home decorations
Wall art
Lamps
Apartment furnishings that you can buy brand new for well under $1,000:
Sofas/sectionals
Bath towels + washcloths
Bed linens + pillows
Mattresses (get on sale, especially the kind that doesn't need a box spring)
Televisions (look for Black Friday deals or new open box items at Best Buy)
2. Give your apartment furniture budget a reasonable cap
Once you're sure you need to move, your next step is to start your budget planning process. Essentially, give yourself a reasonable limit based on how much you're willing to spend and the average cost of similar furniture pieces. For obvious reasons, this has to be centered around what you can afford. $1,000? $3,000? $6,000? Whatever your budget cap is, make sure it's within your reach after factoring in all related moving and rent expenses.
3. Create a comprehensive budget that includes every furniture piece
You need a budget to be able to maximize it in the first place, right? So, here's how to furnish your apartment using an actual budget:
Make a list with 2 columns: what you need to buy vs. what you already have
Create a spreadsheet of options for everything under the 'Need to Buy' section and their prices by store
Find the total cost for purchasing at each store (a simple Google search can turn up items at nearby or online stores, or use our list!)
Calculate how much you have saved vs. the cost of the items at each store
How to Use the Apartment Essentials Budget Sheet
Click this link to open the Google Sheet.
Simply go to File > Make a copy. This will automatically add the copy to your Google Drive.
Or, you can download it as an Excel (.xlsx) file!
After that, it's yours to edit as needed.
It's super easy to come up with a quick budget for your apartment furniture—no sweat.
4. Buy your apartment essentials first
What good is a beautiful centerpiece or vase if you don't have a table to sit and eat on? Unless you absolutely fall in love with a decorative piece, focus on getting the essentials first. Your budget will go a much longer way. Yes, it's a master exercise in patience to wait to buy the little knick-knacks that make your apartment feel personal.
However, by getting your core essentials, it's likely that you'll buy decor pieces that you actually love on their own merit—you know, without focusing on interior design trends. Remember, you can always get fancy later!
5. Shop seasonally for apartment furniture
You can easily stay under budget if you know the best seasons to purchase your apartment furniture. Sales in the furniture industry mostly follow a seasonal, bi-annual schedule.
To get the best deals on furnishings, try shopping during one of the following times:
When retailers are getting rid of last season's inventory prior to bringing in new furniture
When there is a holiday or special event sale coming (even if it's a major competitor's event, they'll usually price-match pieces)
Here's a guide to the best times of year to buy furniture:
| | |
| --- | --- |
| Types of Furniture: | Best Times to Buy: |
| Indoor Furniture | January-February & July-August |
| Outdoor Furniture | Winter months (can vary by location) |
| Office Furniture | August-September (during back-to-school season) |
| Mattresses | 3-day weekends & holiday weekends (e.g. Independence Day, Presidents' Day, Memorial Day, Labor Day, etc.) |
| Televisions | Black Friday, Cyber Monday, and in weeks leading up to Super Bowl Sunday |
| Electronics | July-August, November-December |
| Appliances & Kitchen gadgets | Late September-October, Black Friday, Cyber Monday |
| General Furniture & Decor | Amazon Prime Day & Wayfair's Way Day (competitors will usually price match) |
As an alternative, you can always shop at thrift stores or garage sales, too! If you love a bargain, that may be a better option than buying brand-new items. Newer and pricier decor doesn't necessarily equal top quality. So, buy furniture that piques your interest—not someone else's.
6. Buy smaller pieces in sets
When you're looking at the smaller items you'll need to buy for an apartment—like kitchen utensils, chairs, garbage cans, end tables, lamps, etc.—you'll often need more than one piece. Even if you found a standalone lamp that you like, you'll probably need two if they're both going in your living room. So, why not buy in pairs? The cost is often substantially lower than buying individual pieces.
Take cooking tools for example: Instead of buying each spatula, tong, and serving spoon separately, get a set that includes them all. Heck, sometimes you'll even find a set with the utensil holder included. You'll inevitably need all of these items in your kitchen anyway, so you might as well purchase a set when possible. Not only will buying items in sets help maximize your budget, but you'll also save lots of time that's normally spent shopping around.
Top 3 Factors That Make or Break Your Apartment Furniture Budget
Even if you have a budget, your spending can easily get out of hand if you're not careful. (This is especially true if you tend to have shiny object syndrome or love to shop.) If you're looking to furnish your apartment for cheap, get familiar with the factors that can maximize or break your budget.
For example, if your personal style is more glam or trendy than rustic or Scandinavian, you may have a harder time staying under budget because trendier décor tends to cost more due to demand. (Think: Z Gallerie modern glam look vs. IKEA functional minimalism.)
Additionally, if you're spending only a few months to one year in your new apartment, or if you're saving up for a house, you may not feel the need to invest in high-end or heavy, solid pieces which often cost more.
How much it will cost to fully furnish your apartment depends on several factors:
#1- Your Style Preferences
Some people prefer IKEA while others fawn over Z Gallerie or Pottery Barn. While each has its own merits, they're clearly in different price ranges. Your personal tastes will have a huge impact on how much you're willing to save or stretch your apartment furniture budget…
But, that doesn't mean you shouldn't try to expand your furniture-buying options by:
Doing your research to catch a local sale. Signing up for their email list can often get you at least 10% off.
Browsing furniture consignment shops, membership wholesalers (e.g. Sam's, Costco), or outlets
Saving your online favorites to get alerts when they're on sale using Shoptagr (now, Karma) or Honey
Finding gently-used options on Facebook Marketplace, Craigslist, or neighborhood garage sales
Checking out Etsy, Overstock, or flash-sale sites like Gilt and Nordstrom Rack Home
Pro Tip:
No matter what your favorite furniture style is, look for deals whenever possible! Always sign up for the company's texts/emails. You'll be alerted when there's a sale, and you'll typically get a first-time buyer discount.
#2- Where you buy your apartment furniture
The stores where you purchase your apartment furniture often use mass-produced pieces from third parties, then markup the price and rename the piece so it can't be easily identified. But now there are direct-to-consumer (DTC) companies that cut out the middleman. Even better: some of them offer design services, too! Despite the upfront sticker shock, DTC furniture brands will save you cash in the long run. You can save thousands of dollars by furniture shopping with a DTC company. Just be aware that some DTC brands don't always have super flexible delivery options. And, if a design team is involved, you'll also have to make time to communicate with them about your needs.
For the time-strapped, this still beats finding every piece by yourself through hours of internet research or weekend store trips! If you're a busy workaholic or non-creative type who craves a chic-looking apartment, you'll love having your furniture and interior design needs bundled into the same deal!
Our picks for top DTC furniture brands and furnishing design services:
Furnishr. Work with experts to fully design and furnish any apartment size.
Modsy. Starts from $159-$499/room, or $299 for multiple rooms.
Havenly. Starts at $129 for decorating from scratch + 0% APR financing via Affirm.
Article. Sells furniture, but also offers from-scratch interior design.
Burrow. Durable + luxury-focused. USA-made and affordable with plenty of unique patents pending.
Interior Define. Chic meets mid-century modern. They've got an Austin-based shop and a virtual room in Houston.
Inside Weather. Sustainable pieces are made-to-order by California artisans who use upcycled plastic
Maidenhome. Superb quality pieces by the world-renowned furniture craftsmen of North Carolina + lifetime cushion warranties.
Sabai. Cozy, sustainable seating with affordable repair pieces & a waste-busting trade-in program that sells refurbished pieces up to 30% off original pricing.
The Inside. Be your own designer and customize your fabrics on everything from sofas to peel & stick wallpaper.
Albany Park. What's not to love about designer pieces in apartment-friendly boxes, plus easy assembly and a 30-day warranty?!
Pros & cons of buying furniture from local retailers:
If you prefer the idea of choosing a local furniture retail shop, you'll probably have a lot more style options. However, your pieces may not arrive all at once. And, of course, there's the drawback of having to look for it all on your own. Be aware that delivery fees can vary widely. Local retailers might charge anywhere from $0-$300 for delivery, not including the markup of furniture itself. Assembly of your new furniture may or may not be included, so consult the store to be certain.
#3- How long you'll live in your new apartment
Moving into an apartment for the short term? You probably won't want to make a big investment in super high-end furniture and lots of decorations. In that case, your budget will probably be substantially lower than if you're moving into a new apartment for your long-term dream job. Consider renting furniture or possibly even choosing a fully furnished apartment. Heck, even an extended stay hotel can be cheaper if you're moving for a temporary job and want to maximize your salary.
If you're moving temporarily and don't have an extra $5,000-$6,000 to spend on furnishing an apartment, it may be cheaper for you to choose a temporary or extended stay hotel. You could pay thousands of dollars less in an extended-stay suite instead of paying for apartment rent, furniture, and utilities.
Plus, there are a lot fewer headaches you'll have in a temporary stay hotel, like:
Paying for utilities, WiFi, & cable
Lugging your clothes to a communal laundromat
Cleaning up; many hotels have a daily housekeeper
Having a lease
Just note that this option is most financially worthwhile if you plan to move someplace new from one month to a year.
Wrapping Up
Creating your furniture budget doesn't have to be super time-consuming. Now that you know how to set your apartment furnishing budget and maximize it, you can get to the fun part—decorating!
Related Tips