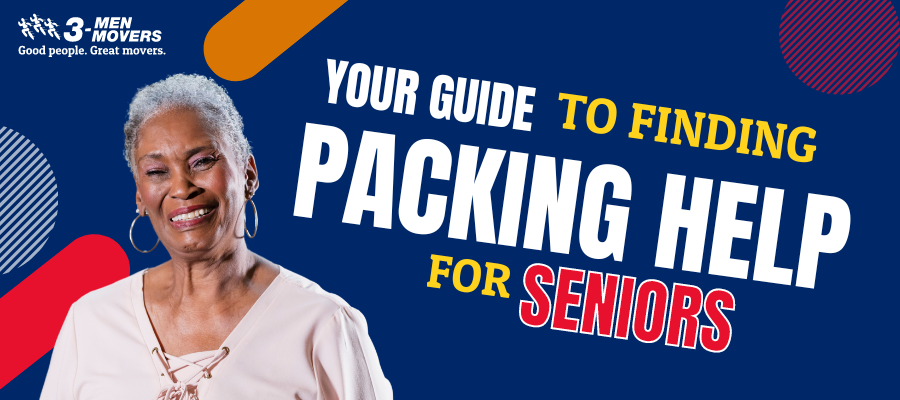 If you're caring for an older adult family member and are concerned about their safety during a move, it's important to find the right movers and packers. Packing up an entire home to move them into a senior living space can be especially challenging, as there are many emotions involved, as well as years of collecting belongings including more delicate and nostalgic items that need to be handled with care. That's why we've put together this guide - to help you prepare for and identify the right person or company who can assist your elderly family member with packing up their home before they move. We'll provide professional tips, advice, and best practices on what factors need to be taken into account when preparing to move your elderly loved one.
Will Movers Pack My Senior Parent's Home?
Yes! Many moving companies offer this service. Some have movers who assist with packing, while others have dedicated packing crews. This is great news if you find yourself in the position of needing to move your senior family members. Working with a professional team of packers can help reduce stress and provide additional security for items during the move as well as decrease the likelihood of damages. To find out what kind of packing services your movers offer, inquire with them early in the process and read their customer reviews to ensure that they consistently place customers' needs first. With the right team, you can feel confident that your senior's beloved items are handled carefully and professionally so that you are free to focus on helping your senior loved one adjust to this new stage in life.
How Do I Find Movers Who Specialize in Packing for Seniors?
Finding reputable movers who specialize in packing for seniors can sometimes be tricky. Start by looking into local moving companies that have excellent reviews. Speak to a representative of the company and ask specifically if they have experience and/or training working with seniors. When speaking to them, be sure to evaluate the company you are considering hiring for their customer service policies such as cancellation guarantees or availability for last-minute changes. You can also ask the senior living facility where your loved one is moving for a list of vendors they trust. Many facilities have established relationships with businesses that consistently provide great service for their residents. Taking these extra steps can make all the difference for you and your senior family member's peace of mind.
Why Should I Hire a Professional Packing Service?
You have a lot on your plate when helping an elderly family member move. Packing is one of the more labor-intensive tasks, this is where a professional packing service can make things a lot simpler. Professional packers come equipped with the supplies and expertise needed to safely prepare your loved one's items for transport. With their years of experience, they move efficiently and quickly, saving you time and giving your senior a faster transition time. This means less strain on them so they can focus on settling into their new home. Hiring a professional packing service is one of the best ways to ensure a smooth, stress-free relocation experience.
What to Look Out For When Hiring a Home Packing Service
It's important to make sure you hire a company who is reliable and considerate of your family member's needs. Before you select a service, carefully read online reviews to determine their reputation and check their references. You should also verify they are fully insured. In most cases, seniors have extra fragile items they hold dear, and these items require extra care. You don't want to find out after the fact if something were to happen to these items that the company was not insured. Once you have narrowed down your choices, turn your attention to the details of the job, such as what packing supplies they plan to use and how many people they will assign to the job. Knowing exactly what to expect will give you and your elderly loved one peace of mind.
What Are Some Resources Available to Seniors Who Need Help with Packing?
Fortunately, there are many resources available that can provide assistance for your elderly family member needing help with packing for a move. Since your senior parent is most likely downsizing and purging items, there are many local donation services that will pick up boxes of items you want to get rid of. Whether you decide to hire a professional packer or utilize assistance from friends and family, you will need packing supplies. Many online retailers now offer delivery of orders, meaning you can have boxes and tape delivered right to your loved one's front door. If they are moving out of a house into a senior living facility, keeping stacks of boxes sitting around until move day can be cumbersome, and even dangerous. You may consider portable storage as an option for keeping their home clear and clutter-free until move day! Utilizing these resources can make take a lot of the burden off of the entire packing experience for all involved!
What Do I Need to Do Before Moving Day?
For anyone planning to move, especially seniors, it's essential to ensure that everything is in order long before the big moving day arrives. Get an early start on preparation to avoid any last-minute stress! First, declutter and start packing what you can. Get rid of any unnecessary items that don't need to be moved. This could be a good time to help your elderly family member take inventory of items they want to keep, give away or toss. Create a system for labeling each box accurately to make unpacking or storing a lot easier. Also, double-check that all fragile and delicate items are properly wrapped and cushioned for transport. Also be sure to scope out the new place and test out any appliances, etc, before move-in. You don't want to wait until they are already moved in to discover something doesn't work! Finally, it's always a good idea to plan ahead by having snacks and drinks ready for moving day to make sure everyone stays hydrated and keeps their energy levels up.
How Can I Best Support My Senior Parent During the Move?
Moving can feel overwhelming at any stage of life, but especially for seniors. As a family member helping your elderly parent, taking the time to understand their needs and preferences is paramount. They need to feel as though they still have some control over their lives. Find out what is important to them in order to feel comfortable in their new home. Also be sure to discuss moving timelines, as this will eliminate any surprises. Help them with sorting and organizing their belongings so that they know where their items are and can access what they need before bringing in professional packers. Make sure that your parent feels comfortable throughout the entire process and is aware of the steps involved in their move. On moving day, it's also a good idea to help them identify and unpack any boxes marked "important" containing necessary items that should be unpacked first, like meds and toiletries.
In conclusion, while it may feel like an intimidating and overwhelming task, it doesn't have to be. A combination of the right resources, plenty of prior planning, and a supportive team of professionals can all help make the process smoother and less stressful. With the help of professional packers who specialize in seniors' needs, your elderly family member can rest assured knowing that their home is being expertly packed and shipped safely. Doing your research first will go a long way towards finding the right movers for you as well as providing peace of mind on moving day. Remaining organized throughout the entire process is essential. Above all else, though, don't forget to show your support by lending an ear or helping wherever possible – this will make all the difference during such a taxing transition. With proper planning and assistance, you can ensure that relocating your elderly family member is a smooth journey.
Related Articles:
Simplify Your Senior Move: How to Downsize with Ease and Enjoy Your New Senior Living Facility
7 Essential Steps to Moving Your Elderly Parents with Care
Are There Movers Who Pack & Unpack For You? All Your Questions, Answered