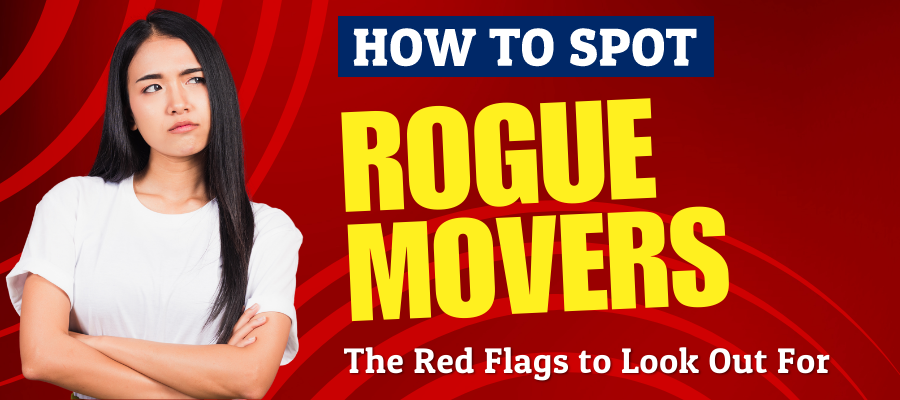 As a Houston moving company that's been around for over 30 years, we've heard lots of horror stories about moving scams.
In fact, some of our customers came to us after realizing that another moving company scammed them, overcharged them, or just didn't honor their contract.
After listening to these horror stories, we decided enough was enough.
So, we made a short video showing you exactly how to check whether a moving company is operating legally.
We also created a list of red flags to look for before hiring movers in Houston.
Here are some of the signs to look out for if you want to avoid moving scams.
THE PRICE IS AMAZINGLY LOW
If you're looking for Houston movers and see an ad offering cheap prices–like 30 or 40 percent less than all the rest–you're probably going to do a double take and consider calling them. Hey, who doesn't want to save money? And that's exactly what some dishonest moving companies count on!
They expect their low prices to get people in the door, at which point they'll nickel and dime you until you pay more than you should. And if they don't increase the price, they'll likely offer subpar services, which is all they can afford to give since they don't pay for insurance, aren't licensed with the DMV or use cheap, low-quality labor.
Basically, if it sounds too good to be true, it is!
THERE'S A LACK OF IDENTIFYING INFORMATION
A good Houston moving company is proud to tell you the business's name because the movers have spent years building their reputations. A company with tons of complaints, however, is going to be wary of giving you their name… which is why one of the moving red flags is when you call the company and they don't say their name.
Similarly, if you hire a Houston moving company and the truck doesn't have a logo or DMV number on it, that's a bad sign because movers are required to have both.
THEY HAVE A BARE-BONES WEBSITE
Before you hire a Houston moving company, check its website.
First, look for its street address.
If there's only a PO Box or no address at all, run!
You should be able to put the address into Google Maps and see a building so you know it's a legitimate company.
Also, if the website has stock photos or pictures of paid actors, these are moving red flags.
A legitimate moving company will have real photos of their movers and equipment. After all, you absolutely deserve to know who will be showing up at your home on moving day!
THE DMV SAYS THEY'RE NOT ACTIVE
Another item you should see on any moving website is the company's DMV number.
If you don't see it, don't hire those Houston movers. Even if you do see a DMV number, check to ensure the company is active by plugging in the number at the Texas DMV Truck Stop site.
The video above shows you how to search for a company in the database.
For moving companies, maintaining a proper state license is quite easy.
So, if the site says the company is no longer active, it's a HUGE red flag.
Avoid hiring those movers no matter what!
THERE'S NO CONTRACT
A legitimate moving company should present you with a contract to sign before your move.
This allows you to formally agree on the price, schedule, and how to proceed if your Houston movers break or lose your belongings.
It also contains important policies and *should* be followed up by a Rights & Responsibilities pamphlet, as is required by law.
So, if a so-called 'moving company' doesn't offer this, they're simply not legal.
If there's no contract to sign, you're not as protected as you should be and it's best to cancel the move.
While you should do the research well before moving day, don't be afraid to cancel at the last minute if you're feeling uncomfortable with the Houston movers you hired. Moving day is hard enough without feeling pressured into keeping movers around who you don't trust.
You can always contact the Texas DMV or even 3 Men Movers if you're not sure if a Houston moving company is playing by the rules. We want to ensure you're safe and happy with your move, so contact us any time at our Houston office!
Related Tips