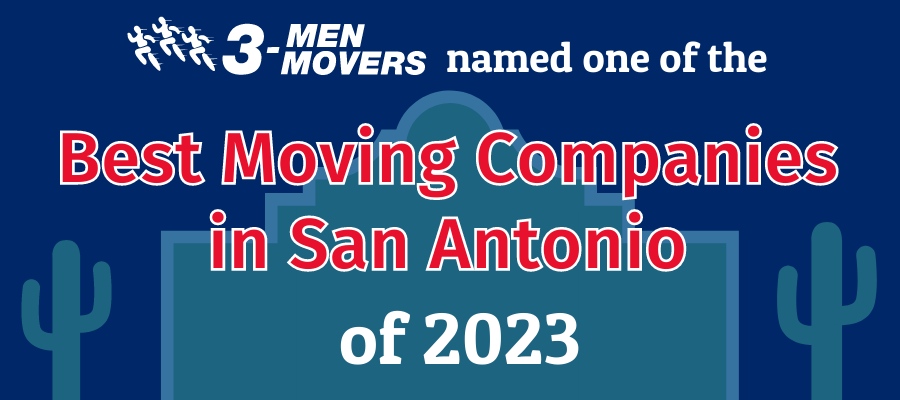 Howdy, San Antonio neighbors! We're absolutely thrilled to share some incredible news with all of you. Hold onto your sombreros because guess what? Your very own, family-owned moving company – with over 30 years of serving our vibrant community – has just been honored with a prestigious title as one of the "Best Moving Companies in San Antonio in 2023" by none other than Forbes Home. It's an honor that has us grinning from ear to ear, and we couldn't wait to spread the news! This recognition means the world to us, not only as movers but as members of this tight-knit Texan family. Let's take a little trip down memory lane, shall we?
Experienced Movers In San Antonio
3 Men Movers became a local moving company in San Antonio with one of the best reputations by consistently providing exceptional moving service for our fellow San Antonio neighbors year after year. We only use the best and most experienced moving crews to impress our customers every time. Our teams are true professionals and always go beyond to ensure every move is handled with precision and care. We've witnessed countless moves – from downtown high-rises to charming suburban abodes, from bustling local businesses to quaint mom-and-pop shops. Each journey, every box packed, and every smile shared has been etched into the tapestry of our history.
Full-Service Moving Companies in
San Antonio
3 Men Movers knows no two moves are the same, which is why we offer a wide range of comprehensive moving services tailored to meet the diverse needs of our customers. We're not just a moving company; we're a family that's grown right alongside San Antonio. Our team isn't just a bunch of movers – they're dedicated, friendly faces that you can trust with your most precious belongings. Whether it's your grandmother's heirloom china or your collection of vintage Spurs memorabilia, we handle it all with the utmost care, just like it's our own. We know moving can be a grueling process, but you can rely on our guys to respect that your home is sacred. That is one of the reasons we offer a professional packing and unpacking service, to ensure that every items is packed and unpacked with the care and attention it deserves.
The Best Moving Companies Put Their Customers First
You might be wondering, "What makes us stand out from the pack?" Well, it's the heart and soul we put into every move, the commitment to transparency, and the trust we've earned from you – our neighbors. We're more than just a moving company; we're your partners in adventure, helping you turn the page to the next chapter of your lives.
Being recognized as one of the "Best Moving Companies in San Antonio in 2023" didn't happen overnight. We aim to consistently demonstrate our commitment to customer satisfaction. We understand that each move is a new chance to leave a good impression and we work closely with our clients to tailor our services accordingly. The good reviews from happy customers show our crew's dedication, professionalism, and attention to detail, making us a trusted choice of movers in San Antonio.
Taking the Stress Out of Moving in San Antonio
No one likes moving, but at 3 Men Movers we strive to make the process as painless as possible. Whether you book your own move online using our website, or speak to one of our amazing "Move Experts" over the phone to schedule your move, you'll start feeling the stress of moving melt away. From there, it's we handle all the logistics, allowing you to focus on other important aspects of your move. With our efficient moving crews, careful packers and safe, reliable trucks — you can rest assured that your belongings are in safe hands! The team at 3 Men Movers takes pride in our ability to provide a hassle-free and seamless moving experience.
Supporting Local San Antonio Business
We've perfected the moving experience, which is why we believe we earned our spot as one of the best movers in San Antonio, but hey, we don't just rest on our laurels. This recognition fuels our desire to keep improving, innovating, and offering you the best moving experience you deserve. We're setting our sights higher than the Tower of the Americas as we embark on more journeys together.
With countless options of moving companies in San Antonio, it's hard to know who to trust. That is why we do our best at 3 Men Movers to earn the trust of the community. We understand the unique challenges of moving in San Antonio and work hard to maintain an in-depth knowledge of the city, traffic patterns and local regulations, to ensure a smooth and efficient moving process. We will ask all the right questions to make sure every move goes off without a hitch because we understand that surprises are for birthdays, not move days.
So, whether you're moving a few blocks away or making a leap across the Lone Star State, remember that we're here for you. Our heartfelt thanks go out to each and every one of you who've welcomed us into your homes and businesses. This honor wouldn't be possible without your trust and support.
From our family to yours, thank you, San Antonio, for making 3 Men Movers a part of your journey. Let's keep making memories, one move at a time.
Related Tips